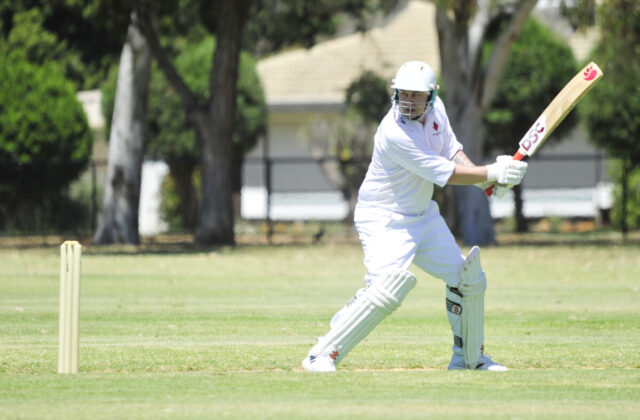 Armadale's 5th grade posted a daunting total in their clash with Thornlie, who won the toss and bowled. Chris Quayle started beautifully and put on 99 for the second wicket with Stan Walker, who made a solid 37. Quayle continued to flay the attack, before he was finally dismissed for a sensational 103 off only 118 balls, which included nine boundaries and three maximums. Rhys Jones then took over, making a run a ball 55 (including 4 sixes), and Michael Wise chipped in with 24 as Armadale finished on 9-275.
Seventh Grade
Seventh grade had a good day in their clash with Maddington, who batted first after winning the toss. Maddington started strongly and were well poised at 2-54 before Ash Garven turned the match. In a brilliant spell of bowling, Garven snared 5-20 off 12 overs as Maddington were dismissed for 138. All the other bowlers bowled well, sharing the wickets.
One Day B have gone down to Willetton in a great game of cricket. Willetton batted first and were cruising at 1-135 and later 3-190 but Armadale fought back well. Nikhil Surampudi was the star, taking 4-30, and Charan Gandham 2-56 as Willetton finished on 9-251. Armadale started brightly thanks to Abdul Kareem Dudekula (37 off 30) and Charan Gandham (50), before Basil Mathai (55) and Muhammad Ali Arshad (38 off 20) gave Armadale a sniff. They eventually fell short as overs ran out, finishing on 8-232.
Once Day C
One Day C had a good win against Kwinana, after winning the toss and batting. After two early wickets, Leemon Thomas stole the show. He smacked 79 off 61 balls, while six other batsman scored double figures to see Armadale to a total of 7-193. In reply, Armadale were never seriously threatened and rolled Kwinana for 143. Sinju Karim was the pick of the bowlers with 4-23, while Ajith Rajagopal (2-25) and Anto Baby (2-21) also bowled well.
One Day D
One Day D have had a solid win against North Baldivis after sending the opposition into bat. It turned out to be a good call as Armadale ran through them for only 92. In a brilliant team effort, all five bowlers took a wicket, with Sathish Managaran leading the way, taking 3-24. Ramesh Ramar (2-22), Chandrasekaran Seenuvasan (2-20) and Rajasekar Vijayakumar (2-0) all bowled well. In reply Armadale were cruising at 2-66 after John Parnabas (28) and Narendeepak Vinoba Gandhi (20) batted well. Armadale passed the total with five wickets in hand, before losing 4-1 to fall to 9-94, before Dhanasekar Srinivasan smacked a rapid 15 to see Armadale to 116 all out.
One Day G have gone down fighting in their clash with Kenwick, who won the toss and bowled. Armadale crumbled early, falling to 7-35 before Warren Francis (35) stood tall and, with the help of Dean Yetton (12), managed to see Armadale to a total of 112. Armadale bowled well but Kenwick managed to finish on 7-127. Kannan Ramasamy was the pick of the bowlers with 2-16 from his seven overs, while Peter Smith took 2-25.
One Day H
One Day H took on Kardinya and batted first. Armadale were in deep trouble at 2-3 before Bijoy Tharian (37) batted well with Derek Goscombe to steer Armadale out of trouble. Goscombe continued his fine innings and finished on 75no as Armadale posted a competitive 4-143. In reply Todd King bowled beautifully (2-22) as Kardinya were in trouble at 3-17. They steadied however, and despite the best efforts of Melvin Paul (2-37), Kardinya finished on 6-151.
Under 17
The Under 17's had an absolute day out, demolishing Willetton Blue in a T20 clash. Willetton won the toss and batted first and were put under pressure from the start as Alen Paul (1-8 off 2) and Chetan Kalia (0-3 off 2) bowled well up front. Phillip Porter and Jayden McClure took a wicket in the middle overs while Gursimran Singh (0-3 off 2) bowled well. Rathis Karthikeyan (2-12 off 3) bowled beautifully at the death as Willetton finished on 6-77. In reply it was a blitzkrieg from the start. Alen Paul (23ret from 20 balls) and Phil Porter (17) set the tone before Gursimran Singh came in and smashed them everywhere. He finished on 45 from 20 balls, which included 4 sixes, while Rajzhan D'Sylva chipped in a rapid 34 from 14. Jayden McClure and Rathish Karthikeyan them smashed a partnership of 69 from only 5.2 overs, as Karthikeyan retired on 32 from 20 balls. McClure then proceeded to smash the last two balls of the innings for six, including a monster onto the roof, to finish on 40no off 20 balls as Armadale amassed a huge 4-237 from their 20 overs.