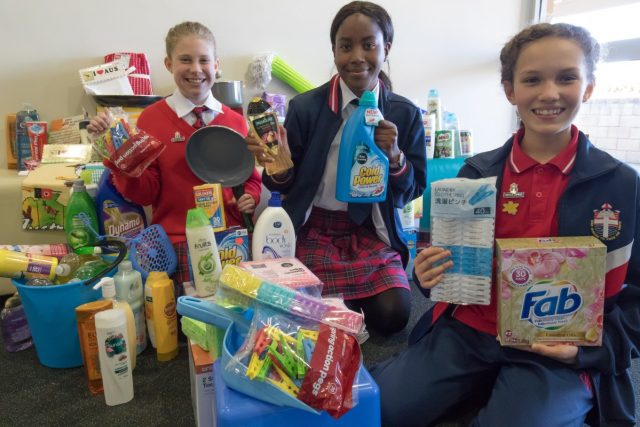 Everything from dishwashing liquid to pegs, bin liners to coffee and tea will soon make their way into the hands of those who really need them in the wider community. 
Students at John Wollaston Anglican Community School raided their cupboards and shopped up a storm at their local supermarket in support of the school's fundraiser for Anglicare WA. 
The donations were handed over to the not-for-profit organisation this week to assist with its Youth Externally Supported Housing program, which helps young people aged 15 to 25 who are homeless or at risk of homelessness to access and maintain stable, longer-term housing. 
Principal Anne Ford said each year the school chooses a charity to support through its Founders' Day giving program. 
"This year we have been overwhelmed with the generosity of staff, students and their families as thousands of household items were donated including pots and pans, electrical appliances, cleaning products and laundry items," she said. 
"The donated items will provide young people with the basics they need to get started in their new home and established in the community as they work to get back on their feet.
"We as a school community hope that this small contribution will relieve some of the stress associated with moving into a new home." 
Anglicare WA's schools and faith officer Kelly Keall was overwhelmed by the number of donations and said the items would be of great assistance to homeless youth.