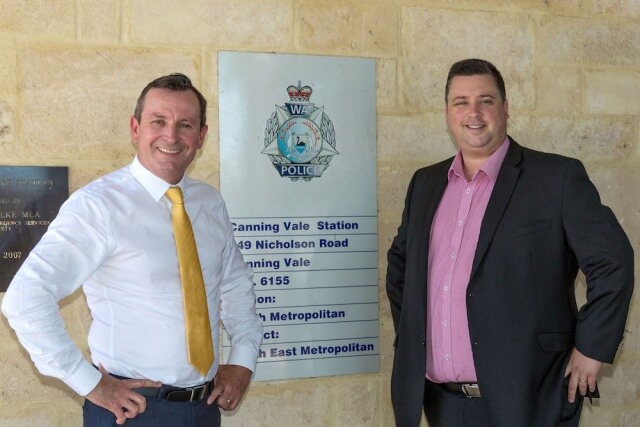 With the state elections this March one of Labor's electoral promises is to strengthen local police presence in the Southern River area by keeping the Canning Vale police station open until 7pm.
The station currently closes at 4pm but the proposed initiative is part of an overall plan by Labor to increase police presence in communities including Armadale, Cockburn and Ellenbrook.
Labor candidate for Southern River Terry Healy said Southern River had been neglected and ignored.
"WA Labor will invest in the area," he said.
"It will ensure that the Canning Vale police station is open into the evening to boost the local police presence and make the community safer."
Labor leader Mark McGowan said crime had spiralled out of control under the Liberals.
"Western Australia needs a return to more traditional policing with more police on the beat in our communities," he said.
"If elected we will immediately act to increase the police presence and ensure more police stations are open when the community needs them."
Member for Southern River Peter Abetz said Mr Healy and the Labor Party were selling another Labor lie.
"The people of Southern River have not been neglected and ignored," he said.
"If you ask the constituents if they would prefer to have two police officers at the police station waiting for someone to walk in with an inquiry or would they prefer those two officers patrolling the streets they always say, 'patrolling our streets'.
"Every hour that the police station is open to the public two officers are tied up when they could be out on patrol responding to serious issues.
"Driving to a police station is what people did before they had telephones, it is completely out-dated."
Mr Abetz said while crime rates fluctuated it was still 23 per cent lower in 2015-16 than under Labor 10 years ago.
"The extra 1050 police we have recruited, the stronger laws and the community policing teams put in place by the Liberal government are making a difference," he said.
"The community policing teams have successfully generated an increased awareness of the value of reporting crime which has resulted in an increase of smaller crimes being reported."