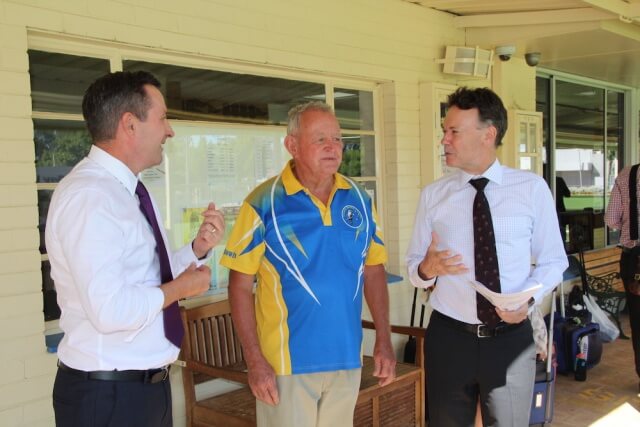 Labor leader Mark McGowan visited Gosnells Bowling Club on Tuesday and promised to pledge $100,000 for the re-development of the club if elected in the March state elections.
Mr McGowan, who is on his campaign trail visiting 59 electorates in a week beginning on Monday, said it was great to be in Gosnells.
"I've visited the club at least half a dozen times," he said.
"It is 80 years old and needs to be improved."
Mr McGowan said if elected the funding provided by the Community Improvement Fund would see the club revamped, which would benefit more than 400 members and the many organisations that use its facilities.
"This is an important upgrade," he said.
"It will significantly enhance the look and amenity of the club and help deliver jobs and improve lives of those in the community."
Gosnells Bowling Club vice president Rob Gibbons said the redevelopment of the club was important.
"The club is really coming together and it's growing," he said.
"We're the friendliest club in the west and the redevelopment will help allow more people to get involved.
"We want it to be open to everyone in the community and invite the younger generation to get to know about lawn bowls."
Member for Gosnells Chris Tallentire said the club was a vital part of the Gosnells community and urged other clubs in the area to apply for the fund.
"The club is more than a community link," he said.
"It is a hub for the community.
"There is a bond between members and it is a real place where people can get to know each other and develop friendships."
Applications for the fund are now open.
The closing date is January 27.
For more information or to register email thornlie@walabor.org.au.