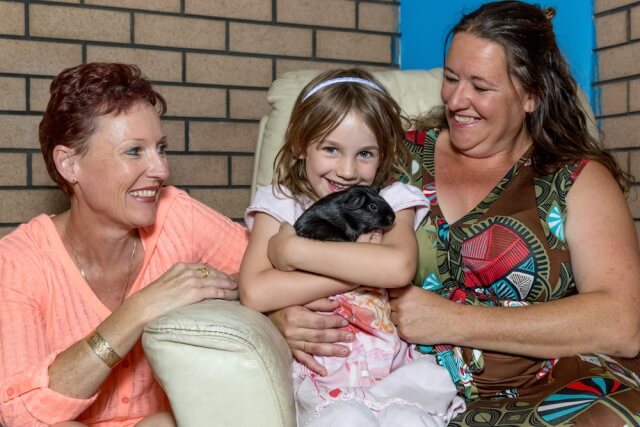 When Ramone Glasgow posted 'how long are people on the waiting list before they have surgery,' on Facebook's Byford Community Page some time ago little did she anticipate the response she would receive.
The Byford community rallied together to support the single mother of three and her youngest daughter, four-year-old Paige who suffers with inflamed tonsils.
Through a series of fundraisers they have raised more than $2000 allowing Ms Glasgow to be able to afford the surgery in a private hospital to remove Paige's tonsils and take her off the waiting list.
Ms Glasgow said since she had posted the question many people had offered her support and advice.
"One lady in particular, Samantha Hatt posted that if they all chipped in two dollars as are there are a lot of members on the community page we could raise the money to get private surgery," she said.
"So Samantha went to Bendigo Bank Byford and they gave her the details to sign up to Bendigo communities which is like a go fund me page.
"We reached our target goal pretty quickly thanks to some amazing people, strangers families and friends, and business people amongst them."
Ms Glasgow said Paige woke up one morning in May 2015 coughing and trying to clear her throat.
"She wouldn't eat breakfast and her throat was sore," she said.
"I looked in and saw her tonsil was huge and her uvala was practically resting on it."
A doctor's appointment followed and Paige was prescribed a series of medication and antibiotics but Ms Glasgow said week after week she would find herself at the doctors.
"Her sleep was being affected, she would toss and turn all night long and wake up tired and sore," she said.
"She couldn't eat much and she was always tired."
Ms Glasgow said Paige had dealt with inflamed tonsils for more than 18 months.
"She has been on the waiting list at Fiona Stanley for around 15 months now," she said.
"We are also on the waiting list at PMH and still haven't seen anyone from there.
"I feel as if the public system has let my little girl down."
Ms Glasgow said member for Darling Range Tony Simpson helped her cause as well as Byford Carpet Cleaning who did a special rug clean and raised $250 and her friend Victoria Corcoran who used her makeup skills to raise funds for Paige.
"Paige has been booked in for surgery on January 19th," she said.
"Dr Darin Bilish from Perth ENT Centre will be doing the procedure and he told me her quality of sleep will improve straight away.
"I cannot wait to have my baby girl back.
"Thank you to everyone who has donated, I am so overwhelmed by such a great community and I am eternally grateful."