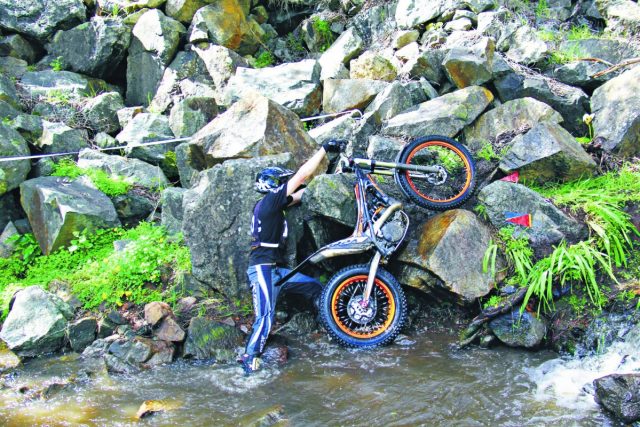 The 2018 State Moto Trials Championships were held last Sunday in Jarrahdale in what was a great family-friendly day out.
The event featured some of the state's best moto trials riders ranging from six-year-old juniors to over 70 years riders in solo B and C grade, veterans, club class, juniors and sidecar categories.
The spring weather was perfect for crowds to roam the hills and jump over streams to each different section to watch some of WA's finest trials competitors balance, bounce, slip and slide their way through the challenges, obstacles, boulders, streams, wet grassy hills and mud.
Although it was a state championship event there was no evidence of competitors battling it out for sheep stations and that was made even more evident at the trophy presentation.
Competitors stayed and cheered the podium place-getters and every place-getter was in attendance to accept a trophy and thank their sponsors and supporters.
AJS Moto trials Club of WA Inc. President and event organiser Barry Barton said it was great to be back at the Jarrahdale property as it was one of the best in the competition.
The A-grade was won by Neil Price while first place in B-grade went to Luke Pantane after a two-year hiatus from the competition.
Veteran's winner Dave Thomas was previously the top in B-grade in the
state but now aged over 40 has decided to let the young ones fight it out.
C-grade winner Marco Folini proved his riding ability in the grade as he beat his son who was second.
Twin shock winner Scott Chapman must have been looking for a third wheel as he has been on sidecars for the last several years but has found his love again of just two wheels for a great win.
Club class had a very large field and was hotly contested but Paul Smith took the win after a lay-off from trials and the sidecar winning pair was father and son team Mike and Lewis Kitney, who had only been together a short time before competing.
Junior winner Ben Walling has only been in the sport a short time but has showed riding skills above his age.
Photographs – Kylie Folini Kearns.
This slideshow requires JavaScript.