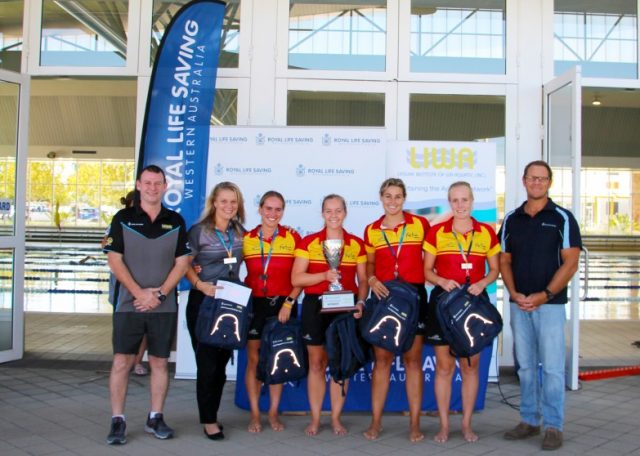 It's official, Armadale lifeguards are the best.
The team from Armadale Fitness and Aquatic Centre taking out first place, after competing against lifeguards from aquatic centres across the metro area in the 2021 Pool Lifeguard Challenge.
The challenge was held on February 19 at the Riverton Leisureplex with 14 teams competing.
For more than a decade the challenge has been run, testing the skills of lifeguards and encouraging the continued improvement of lifeguard teams at WA's aquatic centres.
This year was Armadale's second year participating in the challenge according to City of Armadale Executive Manager of Community Services Neil Kegie.
"AFAC staff complete in-house lifeguard training every second month to maintain their skills and knowledge," Mr Kegie said.
"In addition to this training, the lifeguards who competed in the Lifeguard Challenge engaged in intensive, additional sessions in the months leading up to the event."
The day involved a series of tests, beginning with a manikin tow relay and followed by a line throw challenge.
The third event saw one member swimming to rescue a patron and tow them to the pool edge, then working with two other lifeguards to get the person out of the water, while a fourth team member then showed off their CPR skills.
Other events included duck-diving for bricks, emergency response skills, including using blind folds and first aid.
Throughout the day the teams showed fantastic skill in the races and their response to the incidents thrown their way, while also showing great team camaraderie and co-operation.
Rebecca Brook, Courtney Foster, Rachel Southam and Mhari Wilson from Armadale Fitness and Aquatic Centre team hailed the win.
"It was a wonderful achievement to win. It is testament to our commitment to developing young leaders in the recreation and ritness industry," said Mr Kegie.
A spokesperson for Royal Life Saving Society WA said they hope all competitors return to their centres understanding the role they play as life guards.
"Riyal Life Saving Society WA like to congratulate all the competing teams for their performances this year and we look forward to seeing each of them return in 2022," she said.
"We hope all competitors return to their centres with a new sense of the importance of the role they play in keeping aquatic centre patrons safe as they enjoy water activities."