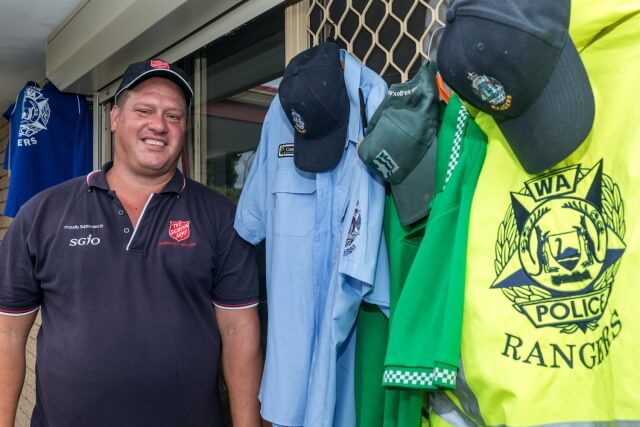 Most people cannot find time to cook their own dinner but recently crowned Armadale Citizen of the Year Ben Boekholt finds time to feed lots of hungry mouths.
Mr Boekholt took out the Citizen of the Year Award at a ceremony on Australia Day for his volunteering efforts across a range of local organisations.
He volunteers for the Armadale Lions Club, Foodbank, Armadale Police Rangers, Neighbourhood Watch and Armadale Rotary.
He also puts his former chef training to good use and cooks meals for emergency personnel for Salvation Army Fire Emergency and Relief.
He said he provided meals a cut above what was usually offered during emergency situations.
"When a person is lost or there is a big fire I go out and cook for police, fire, SES or whoever is there," he said.
"It feels good to help them out because I'm a chef too.
"I always like to grab whatever I have in the fridge and make a stir fry for them rather than a toastie with ham and cheese because that's what they normally get."
Mr Boekholt said he was humbled to receive the award but he did not volunteer for the recognition.
"With the charity work I know it doesn't pay the bills but you're making people happy and that's good enough for me," he said.
"Everyone is busy but doing volunteer work makes you very happy in yourself.
"If you can do just one or two hours a week you'll make a lot of people happy."
Mr Boekholt considers one of his biggest achievements was keeping the Police Rangers alive by moving them to Cecil Andrews Senior High School after the PCYC left Armadale Arena.
The city also awarded two other awards at the ceremony.
Former Armadale councillor Jeff Munn was awarded the Senior Citizen of the Year Award for his 50 years of unstinting service to the community.
Brothers Brody and Jake Galipo won the Young Citizen of the Year award while Rachel John accepted the active citizenship award for the Classic Sounds Orchestra Association's contributions to the community.
Armadale mayor Henry Zelones said the winners were individuals and groups that made a difference to the community and deserved to be recognised.