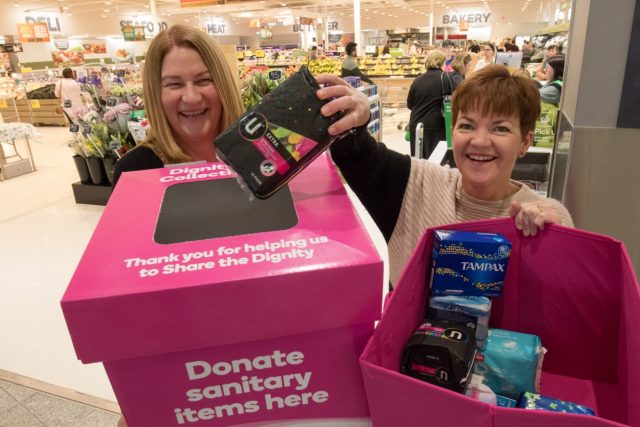 Donations of various sanitary products are being welcomed at shopping centres around the country this month to help end period poverty. 
The Share the Dignity August Dignity Drive is asking members of the public to come together to donate sanitary pads, tampons and incontinence briefs for those who are unable to afford the necessary items. 
The donations will be picked up by local 'sheroes' like Cath Lyons and Penny Armstrong who will be distributing them to those in need. 
Ms Armstrong said she signed up as a volunteer after attending a high tea event earlier this year. 
"I saw a short video with stories of women who were homeless and it made me feel very grateful for the roof over my head and I wanted to help," she said. 
"It's easy to donate, when doing your weekly shopping just add an extra package 'one for me, one for her' to your trolley." 
Ms Armstrong collected donations from her local drop-off point every few days and said she has had an amazing response. 
"I put the word out on our local Harrisdale and Piara Waters chat page on Facebook and the response has been incredible," she said. 
"I went into Woolworths Harrisdale every few days and in just one week I collected 51 packets of tampons, 83 packets of pads and one package of incontinence briefs." 
Share the Dignity founder Rochelle Courtenay said many mothers often had to choose between buying sanitary items and feeding their children. 
"While this is a major problem facing our society it is a topic that not many people want to talk about," she said. 
Donations can be dropped off at pink box dignity boxes located outside many Woolworths stores across the country until the end of the month. 
For more information about the August Dignity Drive visit the Share the Dignity website.