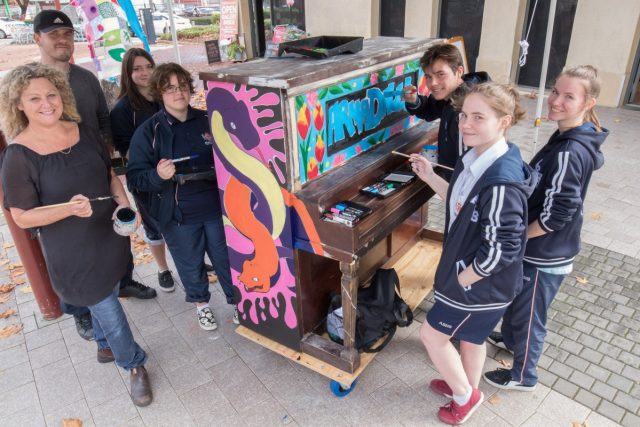 A second hand piano, which was found dumped during the council's roadside collection, has received a much-needed lick of paint and new lease on life. 
Roleystone resident Bob Hart found the near century-old Cable and Sons piano lying on its side on the verge side earlier this year. 
He spent several weeks restoring it back to its former glory before it was transported to Artist Retail Collective (ARC), a local arts community hub in Armadale, where it will be used as a street piano in the Jull Street Mall. 
ARC president and coordinator Charlene O'Brien and Examiner Newspapers put the call out for local artists and it was decided that the project would be assigned to six students at Armadale Senior High. 
"In my discussion with James at the preliminary stage we decided on a theme that would suit the Armadale community at large and that would be using some of the Armadale region's diverse nature and wildlife as an inspiration," Ms O'Brien said. 
"Armadale Senior High School took this on board and the end result looks amazing." 
Specialist art and design teacher James Atkins said it was an opportunity for the students to engage in a real world experience and show the community their talents. 
"We surveyed the younger specialist art students about what represents Armadale and came up with a list that included tulips and the reptile centre," he said. 
"We then generated a style that could blend these elements together for a harmonious design. 
"I think the students learnt how to work as a team, adaptability and developed their skills and techniques." 
Four year 12 students and two year nine students completed the project, which took about five hours. 
The piano will be set up outside the ARC gallery shop and teahouse from Wednesday to Saturday from 10am to 2pm. 
All are welcome to come along and have a play.