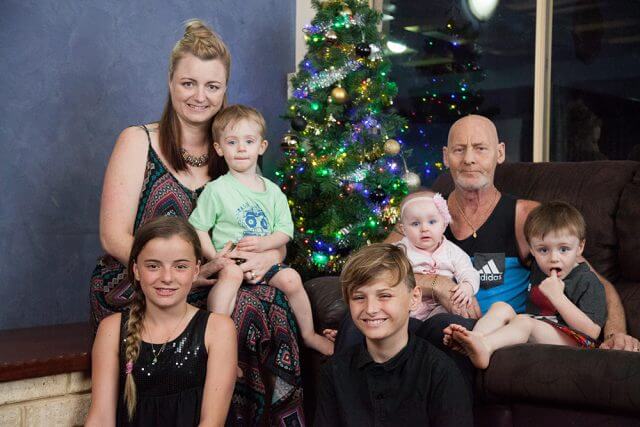 The Byford community will rally behind a dying father of seven at a fundraiser on New Year's eve.
Patrick Maher was diagnosed with stage three lung cancer in July and told it was inoperable.
The cancer has since spread to his brain and doctors have given him three to six months to live and told him it's likely he will become paralysed.
To raise money for his family the Serpentine Jarrahdale RSL and Barefoot entertainment and events will hold a family New Year's eve party from 6pm at the community centre at the corner of Abernethy and Warrington roads in Byford.
Mr Maher's wife Rebecca said the diagnosis had been devastating for the family.
"He was diagnosed the week of his 53rd birthday and at first we thought it could be operable but later scans showed the tumour was in the centre of his chest above his heart where his lymph nodes are," she said.
"He's had radiation on his brain and chemo to try and keep the tumours at bay and keep him here as long as we can but they're still growing.
"It was fast and devastating and we're still trying to wrap our heads around it.
"It's full on, our little baby is only eight months old and we have a two-year-old, three-year-old, 11-year-old and 13-year-old plus Patrick's got an 18-year-old and a 21-year-old too."
Mrs Maher said with the five youngest children still living at home the family needed help.
"Patrick was a handyman and he started renovations to accommodate the five children but he hasn't been able to finish it," she said.
"I've also had to give up my home business as a hairdresser and we're relying on the disability pension and the carer's pension."
Mrs Maher said one of her hairdressing clients, who runs Barefoot entertainment and events, offered to set up the event with the help of the RSL.
"We're not the type to ask for help but Patrick's family all live in the UK and I'm from Esperance so to know that we have such support from a community we didn't even grow up in is really comforting," she said.
"The Byford community have just all wanted to chip in and stand behind us, I've never known a community like it, it's brilliant."
The fundraiser will include music, treats and entertainment.
It is part of a series of RSL-sponsored sundowner events.
For more information about the events call 0409 115 880.
To donate directly to the Maher family visit www.gofundme.com/pt6k22j4 or search for the Maher family on facebook.