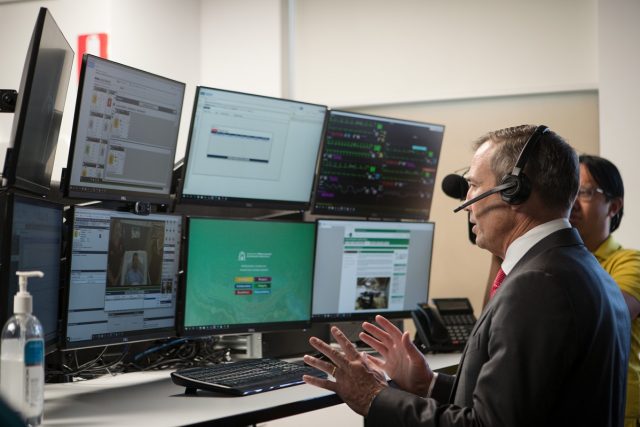 Armadale Hospital is taking new technology to hospital wards with a new Health in a Virtual Environment (HIVE) service.
The HIVE provides around the clock monitoring of Armadale Hospital's most vulnerable patients, creating an extra set of eyes checking the patients.
The service uses an artificial intelligence (AI) to detect early signs of clinical deterioration.
The HIVE uses AI to monitor vital signs with a command centre located at Royal Perth hospital, which is staffed by clinical experts.
The AI program alerts clinicians in the HIVE command centre at Royal Perth Hospital as the vital signs of patients in the HIVE beds at Armadale change.
These vital signs are their heart rate, blood pressure and oxygen levels.
Using equipment such as cameras, microphones and computers, HIVE clinicians collaborate with staff on the ward to deliver effective and immediate care to patients.
Patients in the HIVE are hooked up to special equipment that allows staff to deliver the service the technology provides.
Patients are attached to a monitor, which records vitals signs for the artificial intelligence to monitor in the command centre and provide round the clock alerts to clinicians.
A camera placed in the patient's room allows clinicians in the HIVE command to organise virtual meetings with staff on the ward and the patient.
If a meeting is not scheduled, the camera and audio is turned off for patient privacy.
This year will see HIVE monitoring 50 beds across 11 different wards at Royal Perth and Armadale hospitals.
According to the government, the service aims to reduce the length of stay for patients located in monitored beds, reduce hospital readmissions and reduce the number of patient transfers from Armadale hospital to Royal Perth.
Using digital technology to deliver safe and efficient care, the service is set to improve the health care system in Western Australia.
Health Minister Roger Cook said the Sustainable Health Review highlighted the need for the government to invest in digital healthcare.
"The HIVE will revolutionise the way we deliver health care in WA and will also provide ongoing opportunities for research involving artificial intelligence and data analytics to ensure WA researchers are at the forefront," he said.
HIVE works to increase better patient outcomes and take pressure off Armadale and Royal Perth hospitals.
These signs can be detected up to four hours early, which allows staff extra time prior to patient deterioration.