A Maddington mother has said she cannot sleep without nightmares and can't go out of the house at night after a knife was pressed into her back during an armed robbery earlier this month.
Nayomi (who did not want her surname revealed) was 35-weeks pregnant at the time of the attack.
About 10pm on August 3 she walked out of her rental home on Stanford Street to get something from her car.
When she realised the car was locked she turned around to get the keys from inside and it was then she felt something sharp in her back and two men standing behind her.
"They wanted my keys to the car but they were in my daughter's room so I told them they couldn't have them and to leave my kids alone," she said.
Detective Senior Constable George Kopsen said it was then that the two men forced Nayomi into her home where her purse was taken and her bag was searched.
Nayomi said the offenders had her ID and phone and told her she would not be needing them anymore.
"They said that they knew where I lived and they knew my name," she said.
Nayomi was then led through the house to the back door where she was pushed off a raised patio landing on her knees and onto her dog.
The two men then climbed onto a desk and scaled the rear fence.
Nayomi said was grateful her two young children, a seven-year-old boy and a five-year-old girl, were unharmed and were able to sleep through the entire incident.
"I am very grateful, it could have been a lot worse."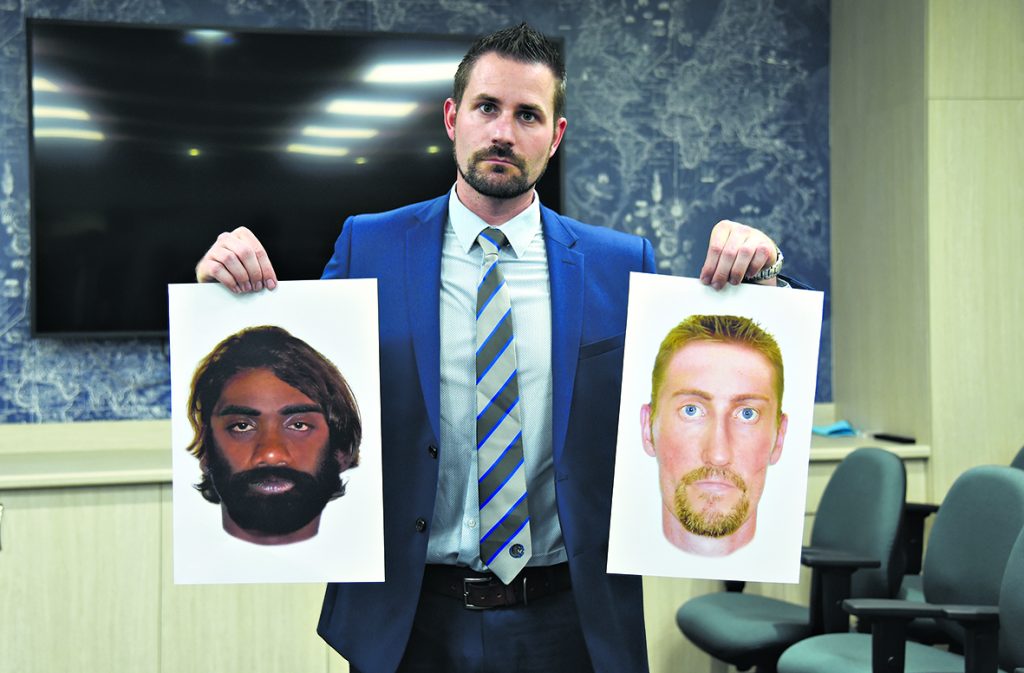 Armadale detectives have since released composite images of the two men who they believe can assist them with the investigation.
The first man was described as dark skinned, about 25 years, 175 to 180-centimetres of medium build, brown wavy hair with a dark coloured beard and moustache.
He was wearing a long sleeved black shirt and red shorts.
The second man was described as light skinned, about 25 years, 185 to 190-entimetres of medium build, blue eyes, blonde hair and a goatee.
He was wearing a grey V-neck top with a logo on the right side and grey track pants.
Anyone with information was asked to call Crime Stoppers on 1800 333 000 or make a report online at crimestopperswa.com.au.