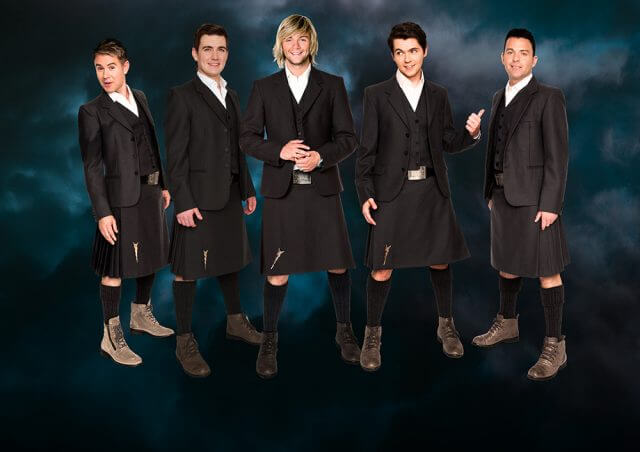 Celtic Thunder fans are in for a treat when one of the original band members, former Glee star Damian McGinty, joins the band for its Legacy Australian Tour next month as a special guest.
McGinty, now 23, was one of its founding members in 2007 before heading off to Los Angeles to join The Glee Project, which he finished last year.
Speaking from LA last week, McGinty said his five years in LA had flown by and he was looking forward to releasing his debut solo album next year.
With his Rory Flanagan role on Glee wrapping up last year, he has the time to head down under with the band that started it all for him as a 14-year-old.
When the Irish folk rock band toured Australia in 2014, it was not long after the sudden death of lead singer George Donaldson, another founding member who McGinty knew well.
McGinty said it had not been easy but the band was forced to build on the legacy that Donaldson left behind.
"Originally a lot of the image of Celtic Thunder was the big, bald Scot guy in the kilt," he said.
"So you don't replace that, I think what happens is, the way we have tried to handle it for the group is to build on from the legacy that George left."
Despite being nine years since the band started, McGinty is amused that he is still the youngest member.
"Aha, it is strangely true, we joke around a lot but I am going to act funny and be like do you guys wish you were as young as me and have as much energy as me," he said.
"As performers we really complement each other because we all have certain qualities, one person might be stronger at a certain quality than another.
"The five of us work well together and mixing the five creates this five-piece harmony sound that is not really in the world any where else."
Despite its distinctly Irish flavour, Celtic Thunder appeals around the world, which is no surprise to Derry, Northern Ireland-born and bred McGinty.
"It is such a small country but it has quite a large impact on the world," he said.
"I don't think that's being overly dramatic, I think that is quite true.
"From my experience of travelling and meeting people a lot of them talk about their Irish heritage or their Irish family so there seems to be a bit of Irish in almost everyone so I think that is why it appeals so much.
"The big songs with their legacy and where they're from, it means so much to so many different people around the world."
Having sold two million albums worldwide, more than million a concert tickets and with more than 77 million views on their YouTube channel Thunder Tube, the all-male band is resounding in its appeal to all ages.
Mr McGinty will traverse the globe from Los Angeles to Ireland at the end of April for rehearsals before heading to Australia for the first time.
He said Perth concert-goers can expect more than just five guys on a stage singing.
"Something we pride ourselves on is that we try to put on a real spectacle, it is also a very visual thing," he said.
Celtic Thunder, Billboard's Top World Music Artist, will appear at Perth Arena on May 7.
To book tickets to Celtic Thunder visit ticketek.com.au.
Visit the video sizzle reel on YouTube.