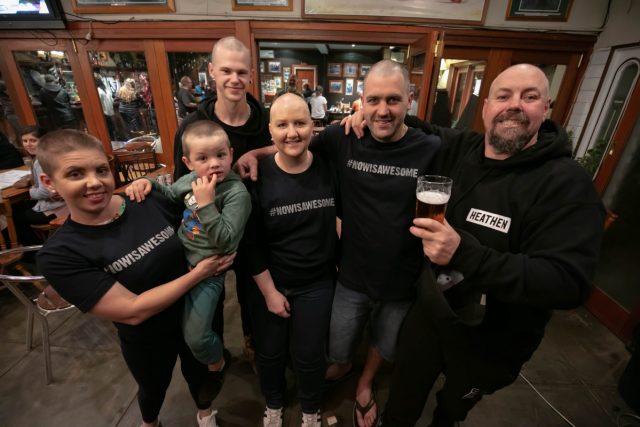 Local champion Carly Arnason is raising money for charity 'Love Your Sister' which fundraises for cancer research.
On Saturday, August 21 Carly and her friends shaved their heads at Jarrahdale Tavern and included a special raffle and silent auction.
According to Carly, the raffle and auction raised more than $3000 alone.
"It's amazing considering our original target was $1200," she said.
"It's doing really well so far, and we still have the online donations open until August 31."
Around five years ago Carly was diagnosed with breast cancer at age 31, and more recently she had a metastatic brain tumour removed.
Her friends mentioned they'd like to shave their heads and, in the end, decided to do a fundraiser for 'Love Your Sister'.
On Saturday night Carly expected to shave her head alongside friends Karly and Karel, but on the night a few more people decided to shave.
"We had a couple of extra people shave their heads," she said.
"One was my nieces' boyfriend and the other was a local I know from Jarrahdale.
"My friend Karly, her four-year-old also had his head shaved too, he was very keen."
The amount raised so far is over $10,000 Carly was grateful for the turn out of guests who were involved and donated.
"I'm pretty stoked because it just started as a little idea," she said.
"Originally we were just going to shave our heads in the bathroom.
"It was only because my friend's husband mentioned that we should do a fundraiser and that finally came about.
"Everybody just jumped on board and got involved and so that was really nice."
According to Carly, even patrons visiting the pub for dinner on the night got involved.
Love Your Sister has raised over $14 million for cancer research and was started by Samuel Johnson who travels Australia to raise money.
To find out more about Carly's journey and how to donate to their cause, visit the fundraising page www.mycause.com.au/page/258938/karly-carly-and-karel-shave-for-cancer.
Photographs – Aaron Van Rongen