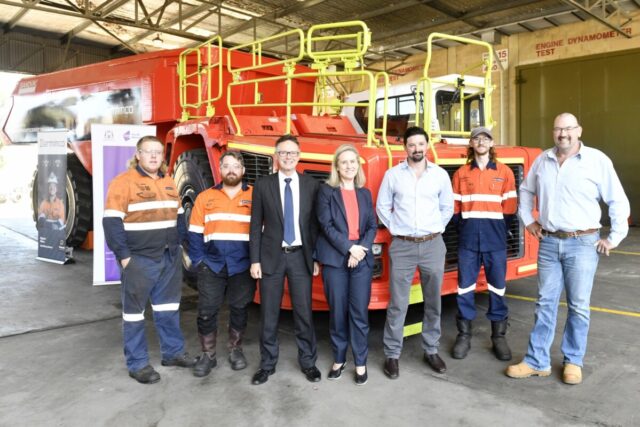 South Metropolitan TAFE has welcomed the arrival of a Sandvik underground truck donated by mining service employer Barminco, which will boost its capacity to train the next generation of mining and heavy automotive workers.
The refurbished underground truck, worth about $1.8 million new, has lived out its full mine life, but will continue to serve the industry as a training resource for plant mechanic apprentices, trainees and students at South Metropolitan TAFE's Heavy Vehicle Mechanical Training Centre.
Located at the college's Thornlie campus, the Heavy Vehicle Mechanical Training Centre is home to industry equipment that mirrors real-life working environments to equip students with job-ready skills.
The donated underground truck will be a valuable tool for students who learn how to diagnose and repair a full range of mining and civil construction equipment including dump trucks, bulldozers, loaders, graders, drill rigs and heavy plant machinery.
The underground truck will join Barminco's previous donation of a refurbished 'Jumbo' development drill for the Heavy Vehicle Mechanical Training Centre, worth about $1.8 million new.
In its lifetime, the donated underground truck has carried 29,325 loads, totalling more than 1.4 million tonnes while supporting development at Barminco's Sunrise Dam and Savannah mining operations in WA and its Dugald River site in Queensland.
Barminco is a Perenti Group company – one of South Metropolitan TAFE's largest employers of apprentices.
More than 90 of the company's active apprentices include 70 heavy duty mechanical apprentices training in the TAFE's Certificate III in Mobile Plant Technology and Certificate III in Engineering – Mechanical Trade (Plant Mechanic) qualifications.
The State Government has significantly reduced course fees for these and a range of other automotive, engineering and mining qualifications through the Lower Fees, Local Skills and Fee-Free initiatives.
More information is available at http://www.jobsandskills.wa.gov.au/skillsready or contact your local Jobs and Skills Centre on 13 64 64.