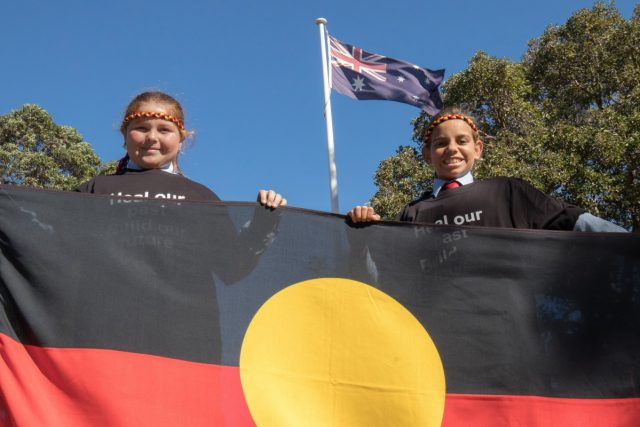 A letter, which was penned by two 11-year-old students, has sparked change at a local primary school. 
Good Shepherd Catholic School students Kiara Archibald and Monique Krakouer wrote to their principal, Andrew Colley, about their desires to see two additional flag poles erected at the school – one to fly an Aboriginal flag and the other to fly a Torres Strait Islander flag. 
Their reasoning was simple, they wanted the wider community to see the two flags that represent them as Noongar people fly alongside the Australian flag as a sign of love and respect of their culture and heritage. 
Mr Colley said he was proud of Kiara and Monique's confidence and passion to write on behalf of the student-led Aboriginal committee to share their feelings and further promote indigenous culture in the school. 
"We are planning to install the flagpoles ahead of NAIDOC Week in July in time for a celebration at the school on July 5," he said. 
"This seems like quite a fitting date coinciding on an occasion for all Australians to come together to celebrate the history, culture and achievements of Aboriginal and Torres Strait Islander people." 
Wungening Moort general manager of early intervention and family support and community engagement Rohan Collard said the school's decision to fly the Aboriginal and Torres Strait Islander flags demonstrates recognition of first nation peoples, while also displaying a symbol of respect, reconciliation and partnership. 
"This is a great example of two young emerging leaders paving the way for other young Aboriginal children to have their voice heard and contribute to a future that truly walks together in reconciliation," he said. 
"Well done Monique and Kiara, we applaud your courage and strength."