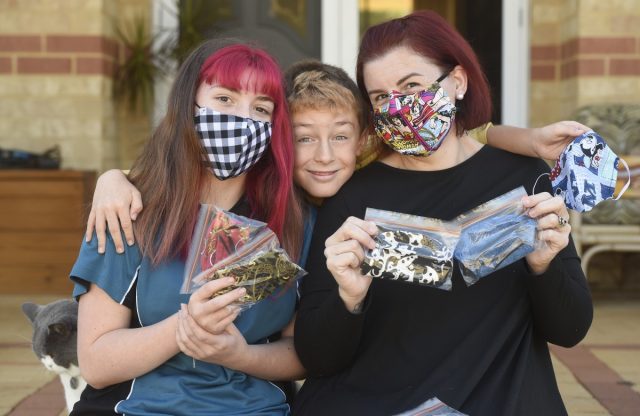 Facemasks are being provided to vulnerable members of the community in exchange for donations to bushfire relief.
Darling Downs local Vanessa Miller rallied a team of community members to produce facemasks for those in need during Western Australia's lockdown.
Ms Miller said last week she witnessed an elderly man with a walking stick being spoken to by security at a local chemist.
The man had tied two handkerchiefs to imitate a mask and security told him it was unacceptable.
"The security gave the man a disposable one to enter the store," Ms Miller said. "Upon witnessing this, it made me realise that there are people in our community that needed help and so I decided to start making some to distribute to those in need."
Paying for the material herself and using spare material she had at home, Ms Miller began to sew her own masks together to donate, advertising online to her friends.
"Before I knew it I was inundated with requests and in return I was asking for any donation big or small to donate to Lord Mayor's Bushfire Fund at the end of restrictions," she said.
"Some people haven't been able to pay a donation and some people made a larger donation and that was totally ok as I just wanted to help them have a mask."
Enlisting the help of her daughter Tegann and son Brock, Ms Miller has made more than 100 masks and raised $439.80 for the Lord Mayors Bushfire Relief Fund helping bushfire victims. Newmont Australia has agreed to match what she donates.
"Tegann has been cutting out the fabric for me and riding her bike with her younger brother Brock to people in our estate that donated much needed elastic for the masks," she said.
"Tegann even sewed several masks using my other machine."
Members of the community and local businesses have also helped.
"Leighah from Puss n Boots Crafts, Peter from Pete's unique signage & Kim from KW Unique Handmade Gifts all helped out in some way," she said.
Taking approximately 20 minutes for each mask, Ms Miller has been spending upwards of 12 hours a day making masks.
"I wanted to donate the money fully to the fund as the fire victims need the money much more than I do and I wanted to help in some way.
"I had the sewing machines; the ability to sew and the time to try make a difference.
"I'm just so happy with the outcome, and so thankful for my local community donating. I just wanted to make a difference one mask at a time."