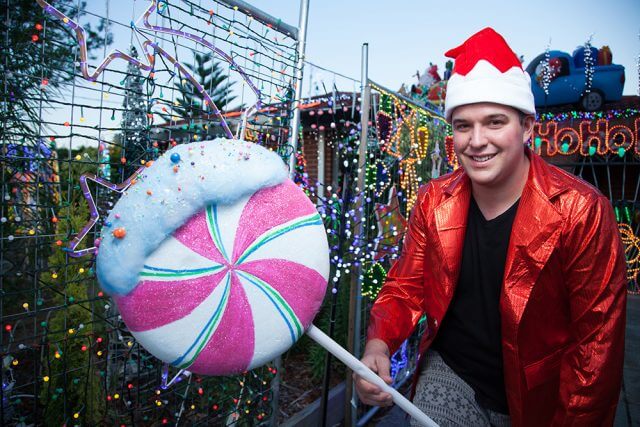 Half measure is a not a term Armadale resident Alex Cutting is familiar with and that shows over the Christmas period.
The outside of Mr Cutting's Warrina Place home has been transformed into a Christmas wonderland for the lights for Lifeline campaign, which is aimed at raising money to educate telephone crisis support volunteers.
He said this year, his 14th year, he had about 80,000 lights around his home.
"I started doing Christmas lights when I was 13, it's now my 14th year of actually doing it," he said.
"It's just a fantastic creative outlet. I really also enjoy how excited people get about it and the oohs and the ahs you hear in your front yard every night."
"I just go for more colour and bigger and brighter is my philosophy.
"Every year I add more and more lights to the collection, this year there's about 80,000 lights and next year there's going to be well over 100,000.
"I don't go for anything gimmicky…I prefer just a big bright classic Christmas that takes people's breathe away."
Not content with just brightening up his street, Mr Cutting also has about 63 Christmas trees set up inside his house for himself and his friends to enjoy.
"I start putting it up in September and I go all out on the inside," he said.
"I love taking the blank canvas and turning it into something unique and special every year so it's completely different."
Christmas is always on Mr Cutting's mind.
He said it takes 12 months of preparation.
"I've already started building my 2016 display," he said.
He said the lights for Lifeline campaign was a great cause.
"It breaks my heart, Christmas should be such a happy joyful time and yet if you don't have the support of friends and family and loved ones in your life it's actually anti Christmas," he said.
For Lifeline's services the days leading up to Christmas Day and the New Year are the busiest time of the year.
The national 13 11 14 crisis support telephone line receives a new call every 37 seconds during this period, with five per cent of all calls being from someone at high risk of suicide.
Lifeline WA chief executive Fiona Kalaf said Christmas is usually a time of family, sharing and giving but for some it could be a time of despair, loneliness and isolation.
"Lifeline volunteers answer 90 per cent of calls Australia-wide but that is not enough," she said.
"That is why Lifeline WA has launched the 2015 lights for Lifeline campaign – to raise funds so we can educate more accredited volunteers who do such important life-saving work."
The total number of WA residents who accessed Lifeline services in the 2014-15 financial year increased by more than 46,000, or 60 per cent, compared with the previous year.
To donate visit lights.org.au/donate.
To view Mr Cutting's house visit 13 Warrina Place, Armadale.
If you or someone you know needs immediate assistance or support call Lifeline on 13 11 14.