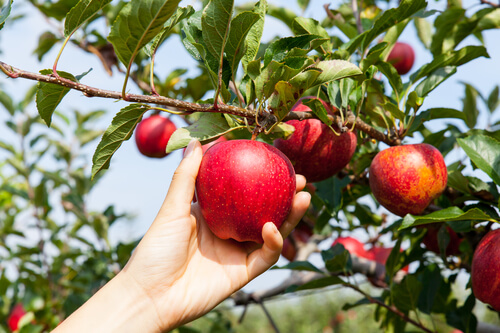 The Coalition will review an anomaly preventing orchardists in the Perth Hills region from signing backpackers on for a second year if re-elected, according to Immigration and Border Protection Minister Peter Dutton.
Backpackers on working holiday visas can apply for a second 12-month visa if they perform three months' work in regional areas in certain industries including agriculture.
But hills growers have been prevented from participating in the initiative because the 6111 and 6076 postcodes are not considered regional.
This rules out popular orchard areas including Roleystone in the City of Armadale and further north throughout the Shire of Kalamunda.
Mr Dutton and Federal Member for Canning Andrew Hastie met with representative from the Hills Orchard Improvement Group this week to discuss the problem.
Mr Dutton said growers had put forward a strong case to be included in the scheme.
"It's an important issue because the growers need a stable and reliable workforce and it's obviously a periodic workforce, which makes it difficult for young Australians to commit themselves to," he said.
"The backpacker, tourist population is an ideal fit for these growers."
He said the ability for growers to sign backpackers on for a second year was important because the work required trained staff.
HOIG spokesman Brett Del Simone welcomed the commitment.
"The situation we're in is that the entire states of Tasmania and South Australia as well as the Northern Territory are all classified as regional," he said.
"So a café worker serving coffee in Rundle Street in the middle of Adelaide is somehow classed as regional but a 417 visa holder seeking work in the Perth Hills agricultural industry is not.
"There's definitely an anomaly there and it means extra cost and extra time to retrain people and then those people move on to other businesses in the second season and we lose the benefit of that time that we've put in."
Mr Hastie said the announcement would bring greater certainty to growers and working holidaymakers looking to travel to the region.