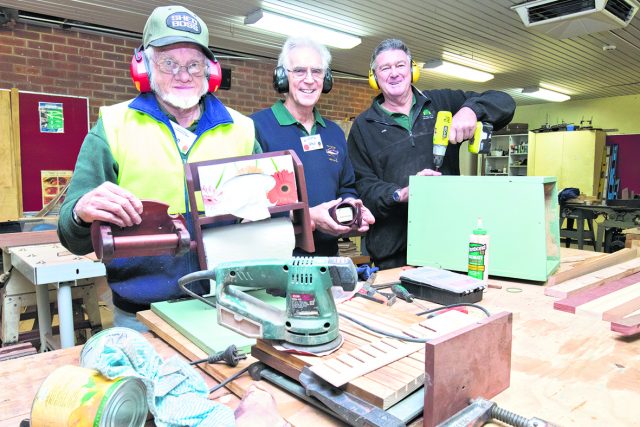 Members of the Roleystone Men's Community Shed are hoping it will be third time lucky finding a forever home in the local community.
The group, which is currently operating on borrowed time from their temporary location at the site of the old Roleystone primary school, has looked at various sites in Roleystone but bureaucratic red tape and Main Roads caveats have squashed all options.
Shed chairman Phil Aked said the group's last resort was Springdale Park in Karragullen, after sites alongside the Community Garden at Cross Park and a designated space next to the Roleystone Community Church didn't work out.
"The Roleystone Men's Community Shed will cease to exist unless a fairy godmother with a large shed in the area of Roleystone has one to give or sell to us," he said.
"To operate a Men's Shed with any degree of safety, we have to be situated in a reasonably large building, given the types of machinery operated and compliance with standard safety procedures."
Mr Aked said the group had hoped to build a 450sqm shed outside the fenced area of the football ground at Springdale Park, which would likely cost about $300,000.
However, Mr Aked said the proposal was dependent on approval from the Department of Fire and Emergency Services as to what was required to build another public access building at the Karragullen site.
"Since the Kelmscott fires, the requirements to alleviate the dangers of building in a treed area have become far more stringent," he said.
"However, the site was granted access for community based occupations and is presently used by the Roleystone Junior Football Team and the Roleystone T-Ball Club.
"The City of Armadale has also amended their master plan for the area to accommodate us."
Mayor Henry Zelones said the council had provided "in principle" support to the proposal at its June 2018 meeting.
"The current proposal at Springdale Park appears to be the most suitable though approvals from some state government agencies, including the Western Australian Planning Commission, are still being sought," he said.
"The Roleystone Men's Community Shed are a very resourceful community group who have secured their own funding for this project, including the addition of power and water supplies to enable their location at Springdale."