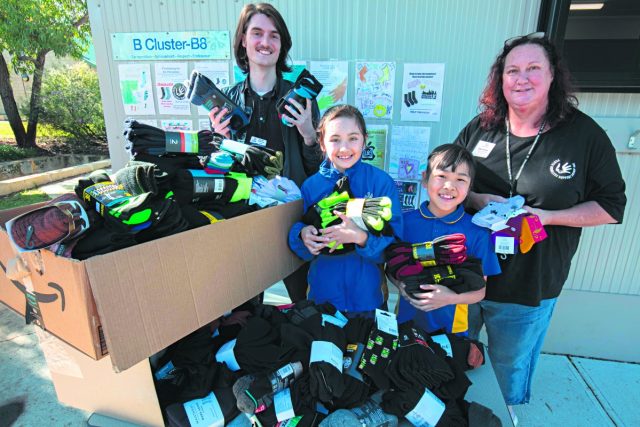 A nine-year-old Willetton girl has been so moved by the plight of the homeless, she has created her own business and donated hundreds of socks to a Perth charity.
Kezia Soon was exposed to homelessness at a young age by her father James, a street preacher, and he said she has always been very empathetic towards the homeless, an issue compounded by Perth's ongoing housing crisis.
To this end, Kezia, when she was just eight, went to work to help the homeless.
"She created Kind Joy Art Collection in 2021 – a mini business where 100 per cent of the profits made by her illustrated greeting cards have been successful in purchasing essential items for a charity that helps the homeless," James said.
"She is also passionate about creating awareness on the homelessness issue and believes that everyone can play a part."
With this winter season dropping to three degrees at nights, Kezia wanted to get socks for those sleeping rough.
She shared this with her teacher at Rostrata Primary School and initiated the idea of a sock campaign.
Her whole class rallied behind her as she pitched her idea to the 7 other Year 4 classes at her school.  The goal of 100 socks was exceeded and they collected 341 socks in total last Friday.
All the socks were donated to Perth Homeless Support Group – a not-for-profit charity that is 100 per cent funded by donations and community goodwill.
James said Kezia was overwhelmed by the support of her fellow students.
"She couldn't believe – and I can't believe – they got that many socks in one week," he said.
"We aimed for 100 because it was a bit of a last-minute thing, but to get 341 socks from her classmates just shows that people really care, it's a really great result and Kezia couldn't be happier."
Kezia will be running the Kids Busy Bee for the second time this July school holidays on behalf of PHSG where primary-aged kids volunteer their time to pack mini first aid kits and lolly bags, with personal notes of hope and encouragement in them.
"We have received 200 hand sanitisers donated and 200 RAT tests this time," James said.
"These packs are handed out at PHSG's Sunday distribution."