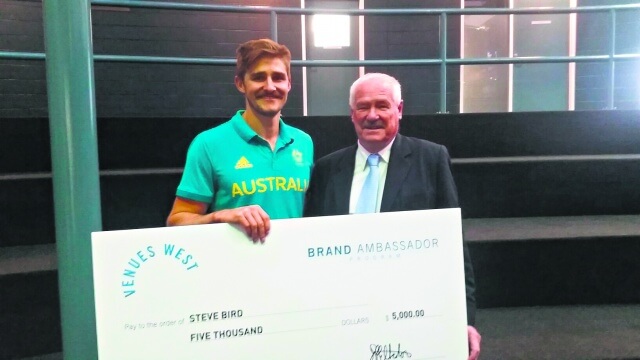 An Olympian who regularly trains at Champion Lakes said he was thrilled to be selected as an ambassador for the owner and operator of some of Perth's biggest sports venues.
Stephen Bird lives in Leederville but travels to Champion Lakes Regatta Centre about once a fortnight to kayak.
This week he was selected as an ambassador for VenuesWest and received $5000 to support his training.
Mr Bird first began paddling using second-hand kayaks at eight-years-old in his native South Africa and moved to Perth in 2007.
After competing in the 2012 and 2016 Olympic games, Mr Bird said the support would help him prepare for Tokyo 2020.
"With 16 training sessions a week, or three a day, you require fuel and certainly food is my biggest expense and always has been," he said.
Mr Bird placed eighth in the 200-metre kayak final at the 2016 Rio Olympics after he secured his place in the games by winning at the National Sprint Championships at Champion Lakes earlier that year.
He said he trained at Champion Lakes because it provided conditions similar to world-class venues across the world.
"If you go to Champion Lakes and train and gather data you know you're getting accurate information," he said.
Mr Bird is one of four Western Australian athletes who became ambassadors for the organisation and Sport and Recreation Minister Mick Murray said it would help them prepare for their next major events.
"It is my hope that young and aspiring athletes can look to these ambassadors for inspiration and encouragement towards their own sporting goals," he said.
"With the Commonwealth Games being held in Australia in 2018, the launch of this program is fitting recognition of the support VenuesWest offers to some of the state's best athletes."
Diver Nikita Hains, wheelchair basketball player Amber Merritt and swimmer Brianna Throssell were also selected as VenuesWest ambassadors.