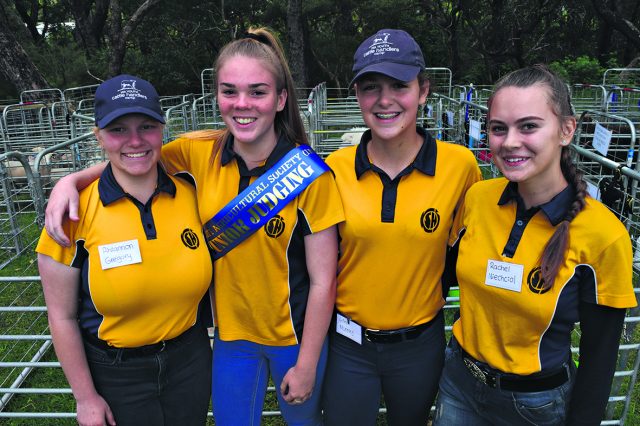 Four year 10 students from Kelmscott Senior High's specialist agriculture program learnt the ins and outs of exactly what it takes to judge the woolly produce at this year's Kelmscott Show. 
Keysbrook sheep breeders Ross and Ruth Miller added the junior judging competition to the show schedule this year which saw students Rhiannon Gregory, Jessica Burgess, Erin Murray and Rachel Niechicol compete for the junior judging ribbon and prize. 
Mr Miller said Jessica had to be congratulated on taking home first prize while the other students performed well and weren't far behind on the leader board. 
"Our judge for the day was Don Handscombe of Quairading," he said. 
"Don is a stud sheep breeder with many years of experience behind him and is a great all-round judge being able to judge the trade and heritage sections with good knowledge of meat and wool. 
The students assisted other breeders with handling their sheep, which included prime lamb crossbred ewes, Melanian, Babydoll Southdown sheep, Lincoln and any other heritage and British breeds. 
Kelmscott Senior High agriculture teacher Dawn Buchanan said this was the first team the school had entered a show sheep team for a number of years. 
"I received so much great feedback about our students, their positive attitude, helpfulness, interest and willingness to learn," she said.
"So much so that they were invited to show a number of sheep for other breeders during the course of the day." 
Kelmscott High's homebred Wiltipoll ewes were expertly handled by the students and the animals were awarded second and third place in their class.