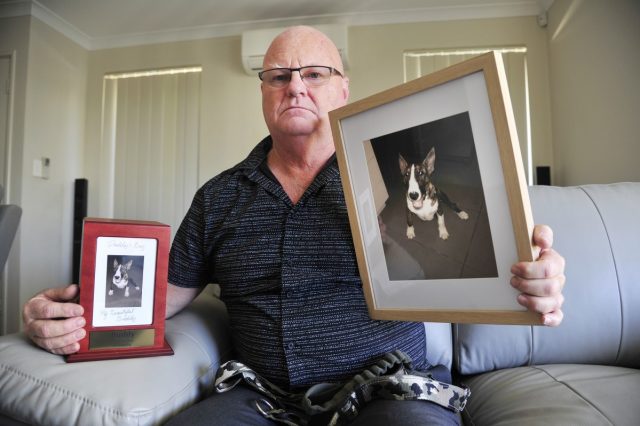 An investigation is now underway into a ferocious attack that killed a dog and left a 64-year-old Seville Grove man completely traumatised. 
On May 23, Colin Weeks took his beloved English Bull Terrier 'Buddy' for his nightly 30-minute walk. 
The pair was just metres from home when they were approached by a young man, who warned them that two unleashed dogs were headed their way. 
Within minutes, Mr Weeks found himself trying to fend off two Pit Bulls that had made a beeline for Buddy. 
Mr Weeks described what ensued as "10 minutes of hell", armed with nothing other than the plastic launcher he had been using to throw Buddy's ball. 
Following a frantic call to police, Mr Weeks claimed two people, believed to be the owners of the dogs, arrived and began trying to separate them with an iron bar. 
The male owner allegedly swung the iron bar back, which collided with Mr Weeks' head and left him with a large laceration that required stitches. 
Neighbours and paramedics came to his aid as the two pit bulls were taken away. 
Saturated in his own blood, Mr Weeks tended to Buddy – whom he said was in relatively good spirits considering what he had endured during the ordeal. 
But over the next few days Buddy's health deteriorated and, despite multiple visits to the vet, infection had spread extensively throughout his wounds and there was little anyone could do to save him. 
Through the grief, Mr Weeks said he was determined to get to the bottom of the matter and ensure no one else had to endure what he and Buddy had. 
"They were quite literally trying to rip him apart and I was completely defenceless," he said. 
"I want these things off the streets because they're loaded guns in society. 
"Children and families in this area should feel safe enough to walk in the street. 
"I'm a 64-year-old, fit and active former carpenter and it has left me totally traumatised. 
"It's going to be a child next." 
City of Armadale chief executive officer Joanne Abbiss confirmed the city was investigating the incident, with officers having gathered statements from witnesses and CCTV footage of the incident now under review. 
It is understood rangers are monitoring the area and several properties have been inspected as part of the investigation. 
However, the dogs responsible have not yet been located. 
Mrs Abbiss said the city had not received any information to support claims that the dogs involved had been trained to attack, were part of a dog-fighting ring or had attacked previously. 
The attack is the second of its kind in Seville Grove in less than six months.
In November last year, Seville Grove resident Matthew Trower was walking his six-month-old puppy Lunar when two dogs with no leads or collars latched onto Lunar's neck and throat.
Mr Trower sustained severe injuries to his hand and arm in the incident, which left him thousands of dollars out of pocket and unable to work for several weeks.
Fortunately, Lunar survived the incident.