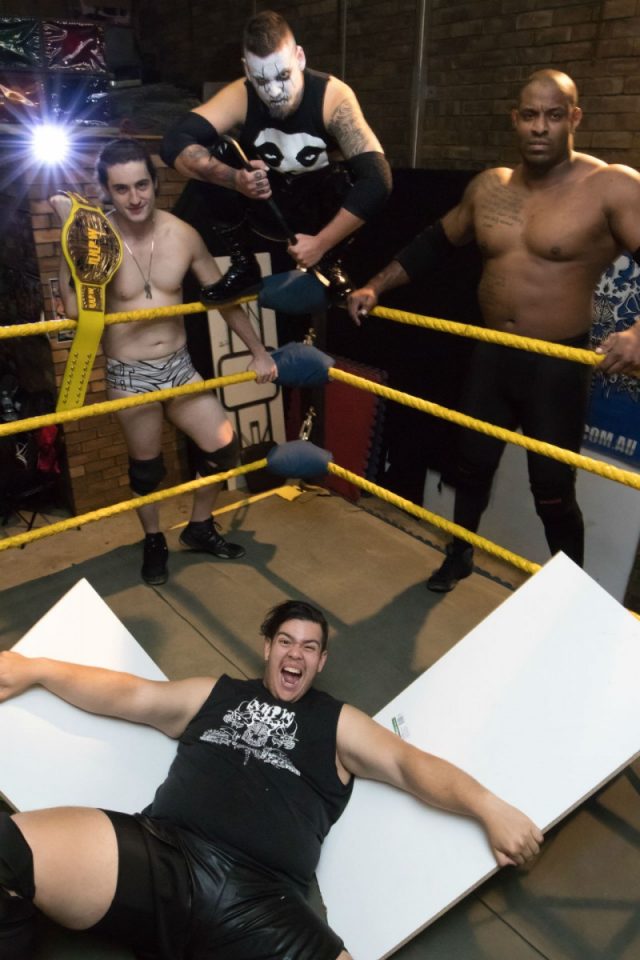 For some people, professional wrestling is a fad; something that was on TV in the '80s and '90s, a weird American subculture that pops up in movies every now and then.
But for some people, it is destiny.
This is what the stars of New Horizons Pro Wrestling – one of Perth's much-loved but still niche professional wrestling promotions – hope to prove at Destiny Rising, a show being spruiked as their biggest one yet.
It will definitely be that for King Shahil, a favourite among local fans, as he takes on his nemesis Jarrad Slate for the Unified NHPW Championship.
It's a culmination of a transformation for Shahil, who came into the scene relatively recently after rediscovering his passion for wrestling.
"I had a lot of confidence issues and body image issues when I was younger.
"I didn't feel like I was fit enough to do things like footy or whatever, so I just didn't really try," he said.
"I would just kind of say to myself, 'Well there's no way I'll be able to do that, I'm too big,' and that's kind of how it went for a long time."
His discovery of Armadale's wrestling scene, as well as the range of shows going on in Perth on any given weekend, served as a catalyst for Shahil diving in headfirst.
"Eventually, me and my friends were really getting back into watching wrestling. "It was something we used to do as kids, but got back into it as something to do after work, that kind of thing," he said.
"There was just a point where we all decided, four of us, to all just give it a go, all at once.
"We had heard about the training sessions and it was almost a snap decision to decide to go.
"I think we were all just that pumped from watching wrestling.
"I remember stepping into the warehouse for the first time and just being in awe that there was a wrestling ring there.
"Up to then it was something I'd only seen on TV with thousands of people around them.
"That was really it for me, it took over my life. I very quickly ended up going to four sessions a week.
"It got to the point where I was told to stay home, just because I was wearing myself out so much but it was all I wanted to do."
Shahil has become something of a poster boy for New Horizons, and the positivity available in wrestling in general.
In a world made of half spectacular athletics and half acting, his contagious energy captures what the promotion hopes to instil in their fans.
"It really motivated me in more ways I could've thought. Like, I have pride in myself and in what I'm doing," he said.
"After the first couple of days where I was just trying out moves, and I worked out I could actually do this and from there it's just been a gradual journey in learning new things, not just in wrestling, but about myself."
As for Shahil's "Hardcore Street Fight" match, though, don't expect anything as focussed and collected as what you might think from his words.
"It's going to be a battle, more than a match," he said.
"This feud we've got, it's been going for more than six months now, so we're just ready to get in the ring and let it all go."
Destiny Rising will be held at Cockburn Youth Centre on Saturday July 28.