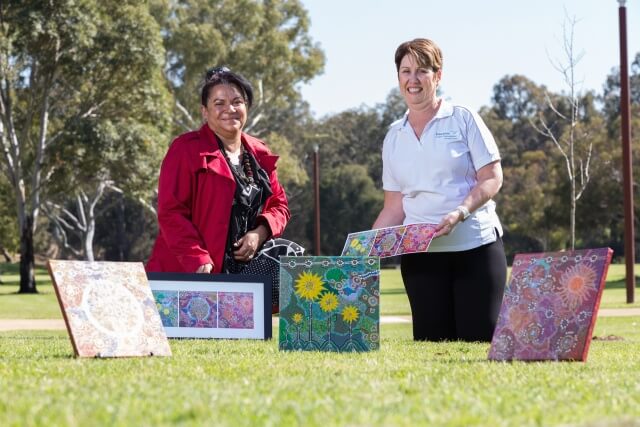 A self-taught indigenous Byford artist will showcase specially created triptych paintings to raise much-needed funds to improve the lives of intensive care patients.
Deborah Newenham painted three canvases – one of a sunflower, another of a tree and the third just a burst of colour.
Ms Newenham was inspired by the Roleystone based not-for-profit Intensive Care Foundation and said it was important to help the community.
"I did a lot of research and looked into the people who benefit from the foundation," she said.
"As I was researching the images (of what I was going to paint) came into my head."
Ms Newenham met the foundation's ambassador Sharon Knapp at a Business Armadale meeting two years ago and learned that Mrs Knapp's son was once involved in a serious road crash.
Mrs Knapp said seven years ago her then 21-year-old son ended up in ICU and she admitted his recovery looked doubtful.
"He was in the ICU for six weeks at Royal Perth Hospital," she said.
"He's back on the mend now and I wanted to give back."
Mrs Knapp said there were many people who survived after recovering in the ICU but struggled to cope in the aftermath.
It was one of the reasons she dedicated herself to raising funds and so far has raised $54,000.
She hoped that working with Ms Newenham in selling her paintings would greatly aid the foundation.
"I'm so proud of Deb," she said.
"Her paintings will be enough to fund a research grant."
Buyers interested in viewing or purchasing one of Ms Newenham's paintings can call Sharon Knapp on 0427 735 796.
For more information on the group visit intensivecarefoundation.org.au.