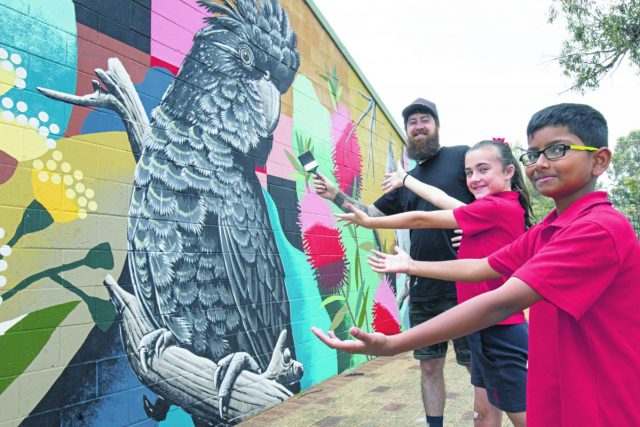 A black cockatoo and a pigeon, a dinosaur, native plants and a girl bursting with imagination have been brought to life on the walls of a local school.
The John Wollaston Anglican Community School Parents and Friends Association engaged local mural artist Brenton See last term to bring joy to bare walls in the primary side of the school.
Mr See, who has created many murals for schools, local councils and people's homes said each artwork took about five days to complete and the students were keen to watch on as each mural was taking shape.
"The first mural is of a little girl who is releasing her thoughts, ideas and imagination into the world," he said.
"Her arms are wide open and the dinosaur to the left of her represents the idea of childhood and imagination as these creatures are no longer around anymore."
Mr See said the second mural, which sits opposite the nature playground needed to reflect the school's surrounding Australian flora and fauna.
"Birds have always been a big part of my life since I was a child, as I used to volunteer at animal rehabilitation centres and kept birds myself," he said.
"The school wanted this one to reflect more of a natural theme as it can be seen from the road when driving past."
Both murals were completed in external based low-sheen paints and were coated with an anti-graffiti coating.
Principal Anne Ford said she was delighted by the quality of the murals and the positive responses by the school community about the artworks.
"Each mural enhances our school as an attractive, stimulating teaching and learning environment," she said.