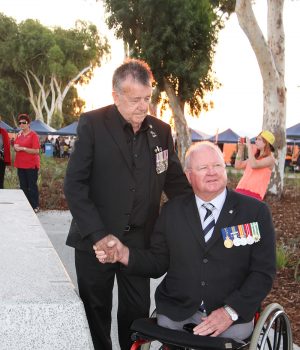 Serpentine Jarrahdale RSL president Ric Giblett will commemorate this Anzac Day in Vietnam alongside the troop he fought with 46 years ago.
The troop will hold a service at the site of the battle of Long Tan, which was fought in August 1966 and considered a decisive victory for Australian forces.
Mr Giblett said while he didn't take part in the battle itself, it was a defining moment in Australia's involvement in the war.
"It's like World War I and the battle at Gallipoli in that it's where the spirit of the Australian soldiers came out," he said.
"We'll do a reunion this year and a number of the guys I served with will be there.
"It will be something to be standing on the site of that battle and it's quite eerie though, an eerie experience to be standing there in the silence of Anzac Day and have the sound of battle in your head."
Mr Giblett joined the Australian army in 1967 when he was 18.
He went to Vietnam in 1970 with 1 SAS squadron but injured his back coming out of a helicopter.
"The thing was that because of the type of work we did, reconnaissance work in small land patrols, when you went in you would come into an area and not know what was there," he said.
"Basically the idea was that you didn't want the helicopter sitting on the ground because it becomes a sitting target. You'd be coming out of the helicopter at some height and they'd be hovering and coming down and you'd be jumping out.
"So when you're jumping out of a helicopter with 50 kilograms on your back it can sometimes hurt and that doesn't do your skeletal system much good."
Despite the injury to his back Mr Giblett remained in the army for another eight or nine years.
"I wanted to stay but I couldn't keep going because of those injuries," he said.
Mr Giblett received a less than welcome reception when he returned.
"The Australian commitment in Vietnam ended in 1972 but we didn't have a welcome home parade until 1985 and that was organised mainly by the veterans themselves," he said.
"I didn't join the RSL when I first came back because of the way they treated Vietnam vets.
"I couldn't even get a drink in an RSL, they refused to serve me because they said I hadn't been in a war."
Mr Giblett said he began helping veterans with claims to Veterans Affairs in 1996 after seeing a need for support.
He established the Serpentine Jarrahdale RSL sub branch in 2005 to allow him a base to help with claims south of the river.
Since then he committed to ensuring the sub branch would never repeat the behaviour he was subjected to and instead would be used to help veterans and serve the community.
"We try to make the RSL relevant to the community," he said.
"Gone are the days where the RSL should be looked on as an old man's club or boys only club and the help the RSL gives is not limited.
"If you can help, you help because as I say to people, when you've enlisted in the army, navy or air force, one of the briefs of serving is safeguarding Australia's assets and one of the biggest assets is Australia's people."
Mr Giblett said the RSL also raises money for people, particularly elderly women, in
Vietnam because of his connection to the country.
He said this Anzac Day he hoped people would attend a dawn service and show their appreciation for those who went away to war.
Anzac services in Serpentine Jarrahdale
• Serpentine Jarrahdale RSL will hold a dawn service from 5.45am at the Anzac Memorial Park in Doley Road, Byford, followed by a gunfire breakfast served by the Oakford Volunteer Bush Fire Brigade.
• The Shire of Serpentine Jarrahdale and the community Anzac Day committee will host a processional march from the Serpentine Fire Station in Karnup Road in Serpentine from 8.40am, led by the Armadale City Concert Band.
The commemorative service will be held at the Serpentine War Memorial at Clem Kentish Hall on the corner of Lefroy and Wellard streets from 9am.