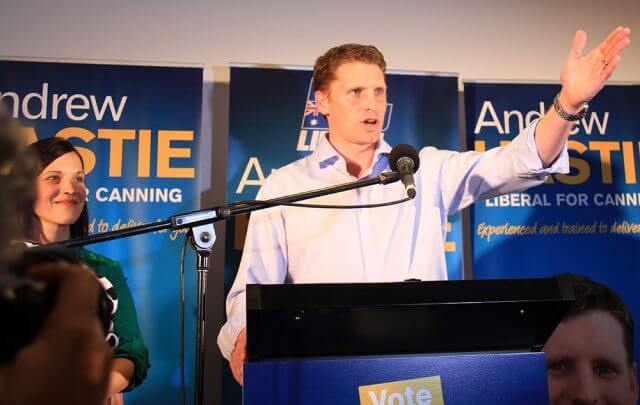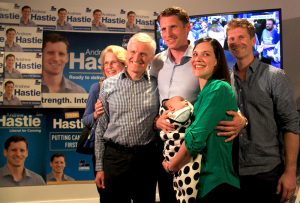 Liberal Andrew Hastie has won the federal seat of Canning with more than 55 per cent of the two-party preferred vote.
Labor's Matt Keogh received a swing of more than six per cent with more than 44 per cent of the vote.
As at 1.30pm Wednesday Mr Hastie had received almost 46,000 first preference votes compared with Mr Keogh who had received almost 37,000 votes with 55 out of 56 polling places returned on the two party preferred count.
Mr Hastie received 47 per cent or about 39,000 of first preference votes while Mr Keogh took 35.5 per cent just over 29,000 votes.
Greens candidate Vanessa Rauland had received almost six per cent with almost 5000 votes.
Mr Hastie paid tribute to the late Don Randall in his victory speech on Saturday night at Pinjarra bowling club saying everywhere he went in the electorate he saw a reflection of Mr Randall's work.
He said he hoped to come alongside the hardworking people of Canning and work with them on local issues.
"I want to get things done," he said.
"I go into Canberra to learn and I'll make mistakes but I'll always strive to do the right thing."
Mr Hastie thanked his wife Ruth and son Jonathon, as well as his parents Sue and Peter and siblings for their ongoing support.
He also paid tribute to former prime minister Tony Abbott and Prime Minister Malcolm Turnbull who both visited Canning and showed great support for his campaign.
Mr Hastie, a former SAS captain, took on 11 other candidates including Mr Keogh and Ms Rauland.
With the election touted as being a test for both parties, it was not just a battle for Canning.
Both major parties rolled out high profile politicians as the Liberals fought to hold the 11.8 majority held by Mr Randall, while Labor tried to blast it apart and shatter confidence in the Liberal party.
Eventually the intense scrutiny saw the downfall of former prime minister Tony Abbott on the Monday prior to the by-election when former communications minister Malcolm Turnbull made a move on the leadership.
It followed poll after poll in Labor's favour but the shock move came just five days out from the by-election.
Opinion polls saw an immediate turn around for the Liberals leaving Labor to now question its leadership.
The by-election was triggered by the sudden death of sitting member Mr Randall on July 21.
The Canning electorate, which covers more than 6000-square kilometres and takes in the major centres of Armadale and Mandurah, was held by Mr Randall since 2001.
Mr Hastie would not be officially announced as the new Member for Canning until a declaration was made by the Australian electoral commission, probably on Friday.
He would then be sworn in as Member for Canning when parliament resumed on October 12.
Until Mr Hastie's office can be set up he can be contacted on the campaign number 6436 3311 and email andrew.hastie@wa.liberal.org.au.
– Robyn Molloy, Amy Blom and Hamish Hastie