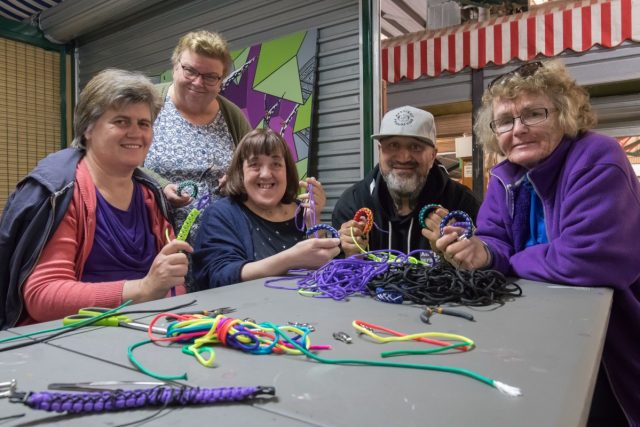 A new project that gives hope to vulnerable and homeless people in Gosnells is already
kicking off every Thursday morning in the Art vs. Depression studio at the Gosnells
Railway Markets.
The Hope Project came about during a meeting that former City of Gosnells mayor Glenn Dewhurst put together with local leaders and businesses to find ways to reduce the pressure that homelessness has on the city.
Founder of Art vs. Depression Gavin Grace, known as 'Gracey', decided to collaborate with Hope Collective, an organisation that offers housing for people with disabilities and the homeless.
During the meeting they found that the city does not have many local businesses
working together to help vulnerable citizens transition into functional society employees.
Mr Grace said the project aims to create meaningful, purposeful work or opportunities for disability and homeless members of the community.
"We identified the issue and we want to rectify that," he said.
"We are not interested in what is happening outside the city because we are local
and our resources are limited, but we understand that if we get this right it will be
a template for other cities to say 'hey we might want to have a look at what Gosnells
and local businesses are doing,'" he said.
At this stage the Hope Project will start with something as simple as making bracelets known as 'hope bracelets'.
"A lot of them have disabilities so we have a product in our store that we can already deliver, but we have chosen to take it off the shelves and make it a Hope Project
specific product," he said.
People attending these sessions will be able to get some of the profit out of these
bracelets and some will go to their housing facilities and services.
Mr Grace said eventually the Hope Project will start producing a clothing line, using resources and easy access for disabled members.
As a result of the project, the idea is to document the fact that these people are
punctual and they are producing what they said they would.
"We hope we can build a body of work, or resume, to show that these people within a
few weeks had the capability of delivering what we find valuable as employees in society," he said.
Hope Collective volunteer Nicola Peddie said making these bracelets is a way of using art and craft to overcome obstacles.
"Vulnerable people can overcome things like anxiety, depression and also give an outlet to people who might not have that opportunity otherwise," she said.
"This is helping people and that is the aim of our organisation, it is for people that have been in the system and may have slipped through the cracks.
"We want to give people hope, because hope is a strong thing to have."