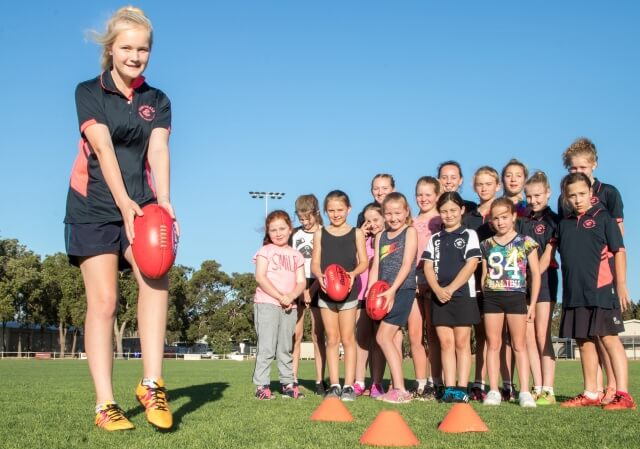 Following the participation of Serpentine Jarrahdale Grammar School girls in the Dockers Cup competition in August the demand for an all girls football team has increased.
The Mundijong Centrals Junior Football Club who introduced an all girls football team earlier this year successfully met the demand.
Club coordinator Tracey Rafferty said while there had been some hesitation about female football at the club overall the initiative was well received by the community.
"It provided many families who had boys involved in the club the opportunity for their daughters to also get involved," she said.
"There will always be the minority who say girls shouldn't play football but I say why not."
Ms Rafferty said a majority of the girls had never played football before initially leading to some shyness and nervousness, which was overcome once they started playing.
"With the support of our coaching staff and their families the girls embraced the game and you could see their enjoyment both at training and at games," she said.
"The introduction of female football has been an exciting time for both the club and the community."
Ms Rafferty said the team had one of the largest participant numbers in the all girl competition within the district.
"The under 15s all girls youth team made it to the grand final," she said.
"One of our players Jenna Bantick won the runner up for the Fairest and Best at District Level Award."
Club vice president Ron Porter said the summer series, which started yesterday aimed at skill development and providing the girls with an understanding on skill and technique.
"The training technique being used is based upon training sessions similar to an Auskick program whereby simple drills aimed at a single skill are utilised to improve an individual's skills," he said.
"My daughter participated in Auskick in year one but it was too rough and with no clear pathway beyond under 12s to senior or elite level we decided to switch her to netball, which she played for a number of years.
"When it became apparent that the club was looking to start an all girls team she immediately wanted to switch back to football and constantly hounded me to ensure it occurred."
The Mundijong Centrals Junior Football Club is looking for new players aged in years two to 11 to join the girls team for the 2017 season.
For more information email tracey_mark@bigpond.com or head to Mundijong Oval on Tuesdays from 5.30pm till 7pm.