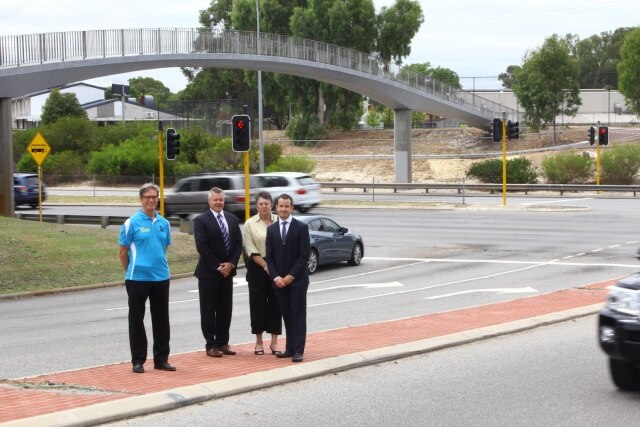 The dangerous Webb Street/Leach Highway intersection would benefit from a $200,000 upgrade if the Liberal Party is re-elected on March 11.
The money would go to the City of Canning to hasten their efforts to upgrade the intersection.
More than 50,000 vehicles use the intersection on a daily basis and many cars use Webb Street to enter Leach Highway after dropping off or picking children up at nearby Rossmoyne Senior High School.
Treasurer and Member for Riverton Mike Nahan made the announcement at the intersection last week and said it would benefit a lot of groups who use the intersection including pedestrians, cyclists and drivers.
"I think this is going to improve the effectiveness and efficiency of the road," he said.
"The City of Canning will look at it and decide what needs to be done.
"We're giving them $200,000 to ensure they do it and do it quickly.
"If they decide there needs to be a top up, within reason, we'll look at that, but it's to get the City of Canning to improve that intersection."
Riverton Rossmoyne Shelley Residents Association secretary Caroline Dunsire said they had been pushing for an upgrade of the intersection for quite some time.
"Anecdotally we are advised that a lot of people from Shelley now come through this way so they can make the right turn safely across the congestion on Leach," she said.
"It is only a matter of time before somebody is hurt so it really does need to be addressed sooner rather than later."
Canning councillor Ben Kunze said the road was one of the biggest issues residents in the area raise with him.
"Councillor (Patrick) Hall and I raised a motion back in August because this has been a concern that's been brought to us by many people in the community," he said.