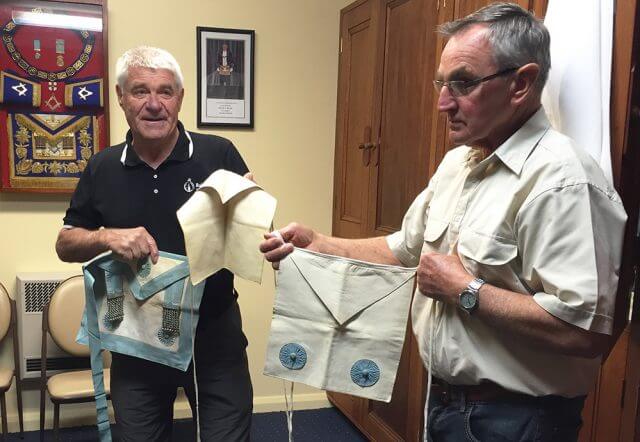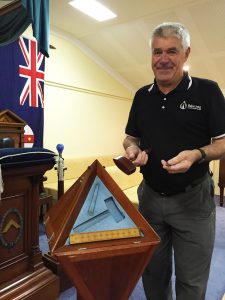 Espousing morality and benevolence, the world's oldest and largest fraternity has seen shrinking numbers and ageing members in recent decades. Robyn Molloy spoke to Freemasons in Orange, NSW and Armadale, WA about how they are trying to win back favour to what many still perceive as a mysterious and secretive boys club.
Master of heritage lodge James Adams holds out hope a resurgence in interest will secure the future of Freemasons in WA.
He says it has started to turn around in the Armadale area with memberships on the increase.
The area supports two lodges – Armadale, with 60 members, and Heritage, with 40 members – and takes in the areas of Serpentine Jarrahdale, Kelmscott, Armadale and Gosnells.
Steeped in the history of stonemasonry, the Freemasons were once a world powerhouse but its mystique, secrecy and man-only memberships have seen it fall out of favour in more recent years.
Members across the country want to turn things around, open up some of the mystery and publicise their charity arm Masonic Care and their fundraising efforts.
There is no doubt secrecy has been to the organisation's detriment despite a push in recent years to be more open.
Mr Adams denies there is too much that is secret about the organisation anymore.
"We are an open society and we do good work," he said.
"What we do is teach morality, it is a benevolent organisation and we teach morality symbolically based on the old masons and their old working tools."
Mr Adams says secrecy dates back centuries to when stonemasons were protecting their craft.
"There is nothing in a lodge meeting that is a secret," he said.
"The only secrets we have were the artisans, the masons that were part of guilds and they wanted to keep the secrets of their trade from the outside world."
With average age of Freemasons in the Armadale area between 50 and 60, Mr Adams says finding new recruits, such as via a stall at the Kelmscott show recently, will lower the age.
More than 3700 kilometres away in Orange in central NSW, flailing memberships are a similar story.
Past assistant grand master of the Ophir lodge Chuck Frame has been involved with Freemasons for 50 years and has visited lodges around the world.
He agrees the organisation should have promoted itself better over the years with membership numbers 'not really good'.
The average age of the Ophir lodge members is 70.
He and fellow member Kevin Tattersall, a member for 53 years, are confident about the future and stand by the positives of what being a member have given them over the years.
"We have an interest from a few young fellas," Mr Frame said.
"Several blokes in their 30s, they are the future of the club as Kev and I are going to drop off the perch one day.
"I see things going in a bit of a wheel. I think we have been at the bottom for a little while and I can see it gradually coming up."
Mr Frame said the benefits of Freemansonry were 'very deep and meaningful and it would take me a week to really go through everything'.
He said stonemasons back in their heyday, many centuries ago, did not share their craft readily and that was where the 'secrets' derived.
"They used the intellectual skills ad kept within themselves and passed them on to one another as they gained experience.
"We are talking about early 8th, 9th, 10th centuries and these groups of operative stonemasons were operating throughout Europe.
"A lot of them didn't have wives…they became independent little groups throughout Europe and they were fragmented in France, Germany, Scotland.
"They were dominated by the church and the royalty of the time who didn't want free thinkers or independent views.
"Quite a lot worked under the surface, they would be chastised by the church and the royalty."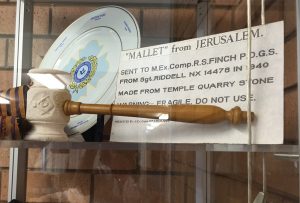 Mr Frame said part of the reason the Freemasons were still relevant to men of today was because they practice speculative masonry.
"An operative mason would use his hammer and his chisel and his ruler to make things but the speculative mason takes his gavel and his hammer and when he attacks the stone he knocks off all the rough edges and cleans it up.
"But if we take the chisel and with the hammer and chisel we can smooth it off and make it perfect.
"The operative mason takes his ruler and measures his work to make sure it will fit but the speculative, we take the ruler and say well there are 24 hours in a day we should apportion our life to work, our god and our family.
"So you can see interpretation, the relation between the working tools of the operative mason who uses them for construction but we take them and use them for moralistic views."
"It's very moralistic. Anyone can be a freemason, as long as you have a belief in a supreme being, not necessarily a Christian god.
"I went to Jerusalem and there were five different religions in that lodge that night yet half a kilometre away they were throwing hand grenades at each other.
"Our ceremonies and beliefs are based on brotherly love that is at peace with everybody, relief in terms of benevolence not just for ourselves but for other needy people in the community and truth, truth is an essential quality in life.
"The forms of acceptance haven't changed in 400 years."
Mr Frame said the Freemasons were funding seven Aboriginal students to attend a private school in Orange and several masonic homes in the area for all levels of aged care.