A Byford family is appealing to the generosity of the community to help their sick child.
Twenty-one-month-old Liam has lissencephaly – a rare genetic birth defect where children are born with a smooth brain.
The condition comes with an average life expectancy of 10 years, and children often suffer from seizures, struggle to eat, and develop severe physical and intellectual disabilities.
Sarah Arambage was first told that Liam's brain hadn't developed properly when she was 32 weeks pregnant.
"The doctors initially expressed doubts about his survival and his ability to breathe or swallow independently. However, defying the odds, Liam was born by caesarean in November 2021 and remarkably managed to breathe on his own without medical assistance," she said.
Mercifully, Liam was born a fighter – because his life has been one battle after another.
Sarah said her son experienced his first seizure one month after his birth.
He's recently had to have a nasogastric tube inserted because he can now no longer swallow on his own.
He can't voluntarily move his arms, legs, or head, and he has developed scoliosis.
And if that wasn't enough for one little body to take, both of his hips are also dislocated, which Sarah says causes him significant pain.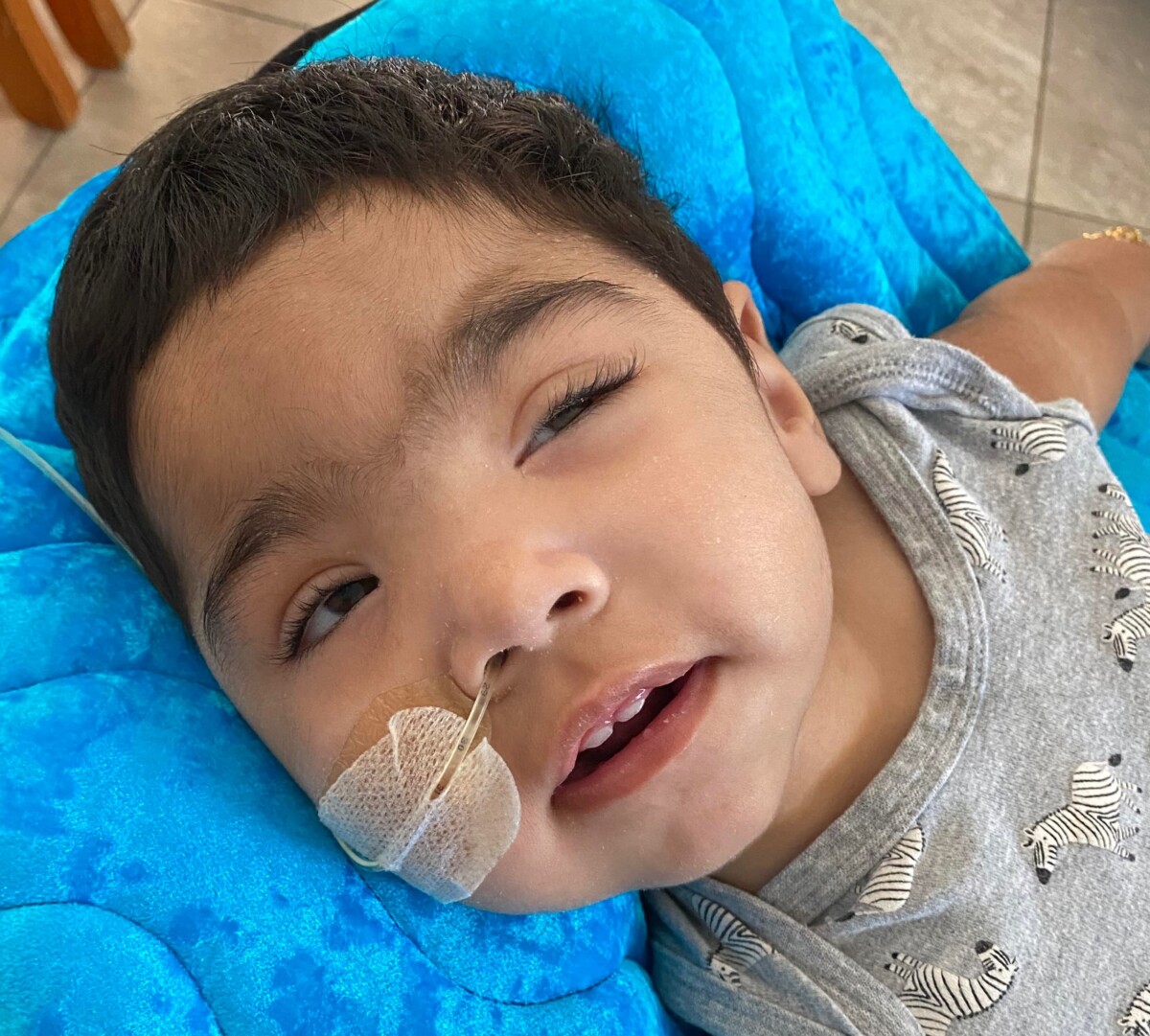 But Sarah says she's "determined to do everything within my power to alleviate Liam's suffering and make him more comfortable".
Each week she takes her son to palliative care at the Perth Children's Hospital – an almost hour-long trip.
For months they've been travelling between hospitals in an effort to find the right medication to get his seizures under control.
"But their severity continues to worsen," she said.
"In addition, Liam has had recurrent bouts of pneumonia, leading to hospitalisations on seven occasions last winter alone. Despite each hospitalisation being a cause for concern, Liam has consistently shown his fighting spirit by pulling through every time."
With so much time travelling to and from hospitals, the biggest concern for the family right now is that Liam is comfortable on those long car trips.
"Regrettably, conventional car seats, or any seating for that matter, fail to accommodate his complex posture and seizures," Sarah said.
"Accessing a Kia Grand Carnival with ISOFIX, which can be modified to accommodate Liam's wheelchair and necessary equipment, would be life-changing for him and our entire family."
But they cannot afford to buy the car outright.
And with the family living off a single income after Sarah was forced to quit her full-time job to become a full-time carer for her son, they are unable to access a loan.
Sarah said she has applied for funding through the NDIS, but that request was denied on grounds that the car is not considered an everyday use item.
"As his mother, it is distressing for me to witness his discomfort during our weekly trips from Byford to PCH," she said.
And so, they are appealing to the generosity of the community to help them in their hour of need.
"I am aware that our situation is not unique, and there are many others in need of support. Nevertheless, I humbly request any assistance you can provide to help us access a suitable vehicle for Liam's needs. Witnessing his distress during car journeys is truly heartbreaking, and your support would significantly alleviate this burden for our family," she said.
Sarah said she understands that times are tough for many right now, and that people unable to assist directly with donations, could help by sharing their message.
A family friend has set up a fundraising page which can be found at:
https://www.gofundme.com/f/help-sarah-and-chamin