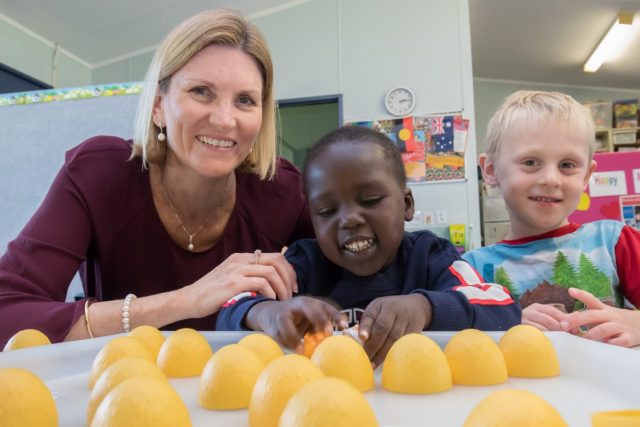 A local school principal has been recognised for her involvement in starting a program that helps children develop and conquer their developmental milestones in their first three years of life. 
When Lee Musumeci was first appointed as principal at Challis Community Primary she noticed many of the students were coming to school without the oral language skills you would expect of children who were ready to start their schooling careers.
She did some research and before long Challis Parenting and Early Learning Centre was established. 
"It started with six parents and six children and once every three weeks we asked the school nurse to come and do a talk," Mrs Musumeci said. 
Fast forward to today, the service, which is predominately funded by the Minderoo Foundation, is now helping hundreds of children aged from infants to three years old to reach their full potential.
"From the moment the mum has a baby the family can start connecting with the child health nurse and all of the services they possibly need are here at the school," she said. 
"This means they avoid wait lists, they avoid transport problems, they avoid having to tell their story to all different agencies when they are trying to get help. 
"We are trying to break down all the barriers that a disadvantaged community already faces." 
Mrs Musumeci also played an instrumental role in developing a music program at the school, which enables students to access their own musical instrument and perform as part of the school choir and at external events. 
Mrs Musumeci's achievements at Challis Community Primary were recognised at a state level earlier this year, when she was inducted into the WA Women's Hall of Fame. 
She said she was incredibly grateful for the recognition and honoured that somebody or a group of people would take the time to nominate her.