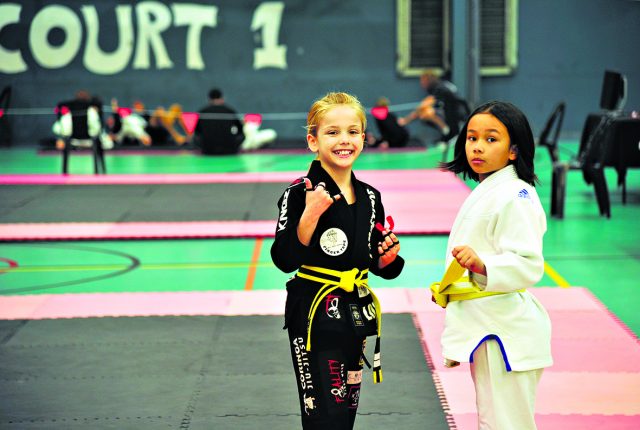 World Champion Elly Kirkby made a clean sweep at the Australian Brazilian Jiu Jitsu Championship on Sunday, winning her featured Super Fight and walking away with another gold medal to add to her impressive collection.
Representing Coringa Jiu Jitsu under trainer Fabio 'Coringa' Nunes, the Oakford grappler was pitted against Victoria's Charlise Haynes in a main event match up at the Serpentine Jarrahdale Recreation Centre.
Putting their friendship aside on the mat, Elly ended the fight with a rear naked choke submission at three minutes 52 seconds, earning her the Superfight belt.
But that was only the beginning of Elly's winning streak. Following the Super Fight victory, the lightweight legend dominated the competition in the nine- to eleven-year-old's yellow belt division, winning a further two matches with arm bar submissions to claim gold.
"The belt is the coolest thing I've ever won and the medal is pretty cool too, but nothing beats the friends I have made," Elly said.
"Winning's not fun unless you have friends to share it with afterwards.
"I want to thank Charlise and her dad for coming all the way over here for the Super Fight and for hanging out with me and my family, it's been the best weekend ever."
Elly Kirkby is one to watch.
With five years of training already under her belt, she has faced the best competition the world has to offer and come out on top, winning State and National titles including the ADCC WA State Champion, AFBJJ WA State Champion, AJJC Australian National Champion, IBJJF Pan Pacific Champion and SGT State Champion.
In February 2020, Elly and her mother, Lauren, travelled to Los Angeles to compete against the best of the best in the Pan Kids World Championship.
Competing in four fights, and in what has become typical style, Elly won three by submission before claiming the World Championship gold medal with a decisive points victory in the final.
Elly's trainer, Fabio 'Coringa' Nunes, said when he suggested Elly take on the World Championships, he was sure she could compete.
"She trains basically every day, she's the hardest worker at the gym," Fabio said.
"I still remember when I asked her to go to the world [championships] to compete, Lauren, her mother said, "Fabio, you think Elly can win? There will be a lot of Americans and Brazilians."
"I said, "Of course she can! I know the level; she is on the level."
"There were a thousand people in the venue on that day and she became World Champion, it was a very good achievement for her."
Fabio opened Coringa Jiu Jitsu in 2009, having graduated as a black belt in his homeland, Brazil, at the age of 23.
"Our goal is to be happy, that's the main thing. In Jiu Jitsu you can be in a very bad situation, but you eventually go up, and that's the same thing in life.
"If you panic or get nervous you can lose everything. If you can control your emotions and be calm through the storm, eventually you will go up.
"I see kids come in and sometimes they are shy, they look down. Five months later they look you in the eyes, they are confident. That's our goal, that's what makes me happy."
Fighting fans don't have long to wait for the next round of match ups, with the WA State Gi Championships coming up in Mirrabooka on July 3.