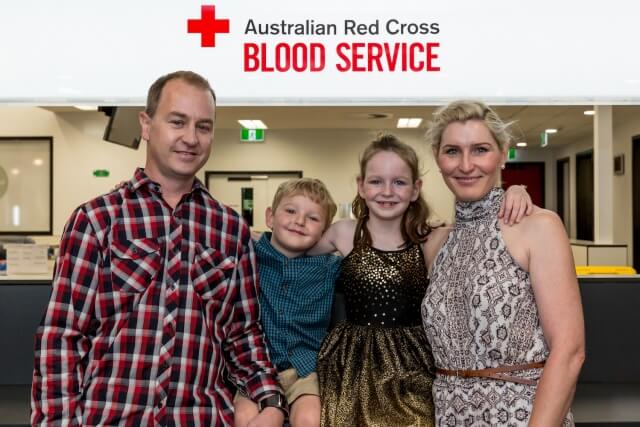 Blood donors in Perth's south east were expected to give about 18,000 blood donations a year at a new state of the art $2.4 million facility in Cannington, which opened on Monday.
To help open the facility and demonstrate the importance of blood donation was Hocking girl Eva Renton, 7, and her family.
Eva was an energetic and happy child who played soccer and rode BMX until kindergarten when she started getting sick and was struck down by several serious infections.
After antibiotics stopped working Eva's situation became dire and her family pushed for an answer.
Finally she was diagnosed with common variable immune deficiency.
People with CVID lack immunoglobins and antibodies in their blood, which fight bacteria and viruses and prevent infection.
For Eva this diagnosis means she needs plasma products every single week so her blood can use the immunoglobins from other people's blood to fight infection.
With the help of blood donations she has returned to her playful self and has even gone back to playing sport.
Eva's mother Kellie said their story demonstrated the importance of having people from all walks of life donate blood regularly.
"I think for a lot of people they don't realise that for a lot of people who need blood it's an ongoing thing," she said.
"People think car crashes or people in childbirth but they forget that it's people with ongoing and incurable illnesses.
"Eva is healthy because she received the plasma every week, she can live as normal a life as she can.
"There are lots of people who live healthy because of these different products.
"Red Cross will always need donations."
Eva said she loved the new centre and it was 'ginormous'.
Eva now visits all of Perth's blood donation centres to personally thank the blood donors there for their efforts.
Australian Red Cross Blood Service chief executive Shelly Park said the new centre on Albany Highway would accommodate a growing number of blood donors in the area.
"Demand for blood has changed a lot since we first opened our old Cannington Donor Centre 17 years ago in 1999," she said.
"Our new centre is three times bigger, which means it now has the space to continue to collect even more blood donations in the future.
"In our first year in our new facility we expect up to 12,000-litres of blood will be donated by our 5500 loyal Cannington blood donors.
"We'd also like to invite more people to come and give blood at this amazing new facility – in doing so you can help to save lives like Eva's."
Ms Park said the new centre was just five minutes from the old site and located in a more visible, standalone building.
The new centre was funded with contributions from federal and state governments.
To donate blood at the new centre or for more information visit donateblood.com.au or call 13 14 95.