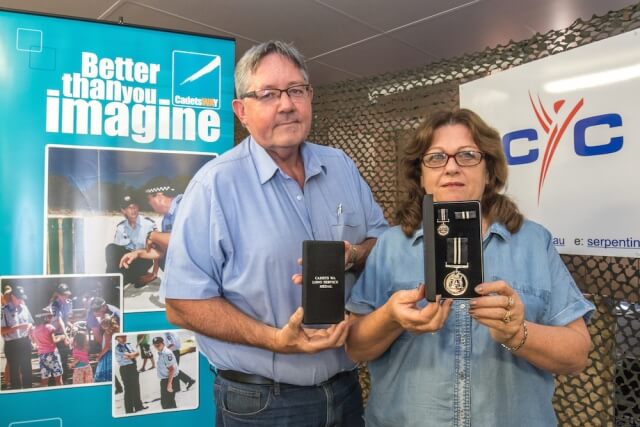 Former member for Darling Range Tony Simpson presented Mark and Mary Warner with Cadets WA Long Service medals last month.
Mr and Mrs Warner, who run the Police Ranger Program at the Serpentine PCYC, were recognised for their 10-year service to the program.
Mrs Warner said it was absolutely amazing as she and her husband did not expect to be honoured with the medals when they were called into Mr Simpson's office.
"It has been 10 years of ups and downs," she said.
"Originally Mark and I ran youth development activities at the Serpentine PCYC for two years which were funded out of our own pockets before starting the Serpentine Jarrahdale area's first Police Rangers Program in 2006.
"Reflecting on our years of service our favourite memory was taking out a state drill championship in the Police Ranger unit's inaugural year and later to go on to win twice more over the years to follow."
Mrs Warner said Cadets WA taught navigation skills, bushcraft, cooking, bike riding, fitness and crime solving to teenagers in the community.
"We have our own scenario room where we conduct mock crime scene activities using mapping and collecting forensic evidence," she said.
"By exposing the young people to these things they learn to be better individuals and to contribute to the community without being asked."
Mrs Warner said it had been a pleasure working with teenagers.
"They have been enthusiastic to learn," she said.
"They have grown into wonderful young men and women and their parents should be proud of them."