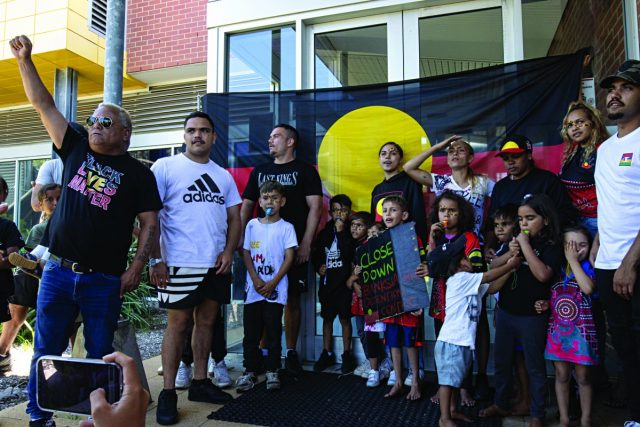 The organiser of a protest over conditions at Banksia Hill Juvenile Detention Centre in Canning Vale has hit out at a perceived lack of contingency plans surrounding COVID vaccination mandates.
Megan Krakouer, of the National Suicide Prevention and Trauma Recovery Project, said that one day prior to Wednesday's protest, she received a disturbing text message from a corrective services staffer she would not name.
"The message read: "I was informed last night that 11 youth custodial officers won't be at Banksia Hill today as they are refusing to be vaccinated,"" she said.
"That's had massive, draconian impacts on the children.
"Children are being locked down for five hours, out for an hour, then locked down for another five hours.
"These custodial officers not showing up because of COVID mandates exacerbated the problems and the common denominator there is Mr McGowan.
"His policies around the vaccination have had a flow-on effect to Banksia Hil and will have a direct impact on our kids.
"There should have been contingency plans, these people aren't going to work, how do we compensate, these plans don't exist whatsoever, lockdown isn't new, it's been happening for years and years and years.
"They're happening more frequently and we're hearing that from the kids," she said.
Ms Krakouer is one of the forces behind a class action legal movement, aimed at the State Government, over conditions at Banksia Hill.
She said that 500 former detainees had now joined the action, managed by Levitt Robinson Solicitors.
"The allegations and testimony we've heard from right across the State is one of sadness and one of failure by Department of Corrective Services, the Corrective Services Minister and the Premier.
"They're not investing enough money into keeping children out of prison, they're not investing enough funds for community initiatives and that's bringing our people into contact with the system.
"It's not just Indigenous children, we've spoken to many non-indigenous children, this is about dropping the incarceration rate of Indigenous and non-indigenous children, brothers and sisters, to be treated fairly and be treated with compassion and support in trying times."
The Department of Justice said that while the department does not disclose staff numbers, or operational matters related to facilities, staffing at Banksia Hill was unaffected by the requirement for proof of COVID-19 vaccination to enter the facility on Wednesday.