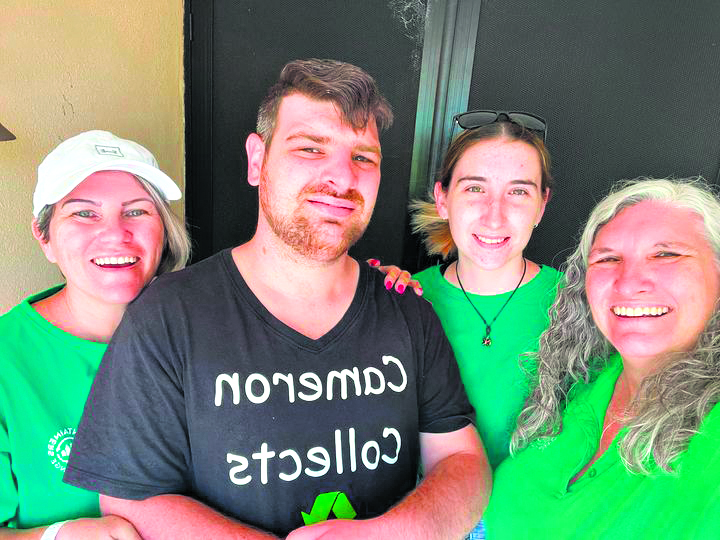 Local residents are being rallied to recycle this Saturday, and one eager environmentalist is a shining example of how much difference a little bit of diligence can make.
This Saturday, January 29 is Empties Day, the biggest day on the calendar for Containers for Change – a not-for-profit that has seen over 1 billion 10c containers recycled.
CEO Tim Cusack said they expect Saturday to be a very busy day.
"Up to four million 10c containers are expected to be returned to Containers for Change refund points on Saturday, which comes as more West Aussies make the choice to ensure their containers are recycled and not sent to landfill," said Containers for Change CEO Tim Cusack.
One of those West Aussies is Cameron Danzi, a 26-year-old-man who lives with an acquired brain injury.
Having suffered from Pneumococcal Meningitis as an infant, Cameron is non-verbal and faces difficulties finding employment.
"We've been looking for a way to give his life purpose and meaning every day, and when Containers for Change started, we realised it was something he could do," said Cameron's mum, Jane Danzi.
"After starting at one day a week, we are now up to five days a week. It's incredible, we're amazed at how quickly he grew and how quickly a community formed around him," she said.
"He just loves it. He is non-verbal, and on days he doesn't work he'll point to the clock and look at me and walk to the door, and then he's disappointed when I tell him it's the weekend," said Jane.
"It's a win from every angle, he's working, he's supporting the community and he's helping the environment," she said.
Over the past year, Cameron has turned his recycling project into a registered business – Cameron Collects – and has developed a network of businesses and organisations where he carries out regular collections, Monday to Friday, all year round.
The staff at his regular drop-off point, at the WA Scouts centre in Kenwick, are eager to see Cameron each week.
"Everyone is just so lovely and supportive, they chat with Cameron and high-five him," said Jane.
"He's become one of our favourite customers," Scout Leader Jack Seward told The Examiner.
"I used to be a support worker so when he first came, I could sense he was nervous," he said.
"He's been coming here for over a year now and since he started he has grown so much, he has really gone from strength to strength," said Jack.
Scouts WA is a major source of infrastructure for the recycling initiative, providing green recycling bins to charities and businesses, and using a fleet of trucks to collect them.
"The businesses get the 10c refund for the containers, and then we collect them and take them to the depot, and we get a 6c processing fee," said Jack.
"It's really win-win – you're making a bit of money, you're helping the environment, and you're helping Scouts WA," said Jack.
Containers for Change Empties Day is this Saturday, January 29.
For more information visit dontfeedthefill.com.au.