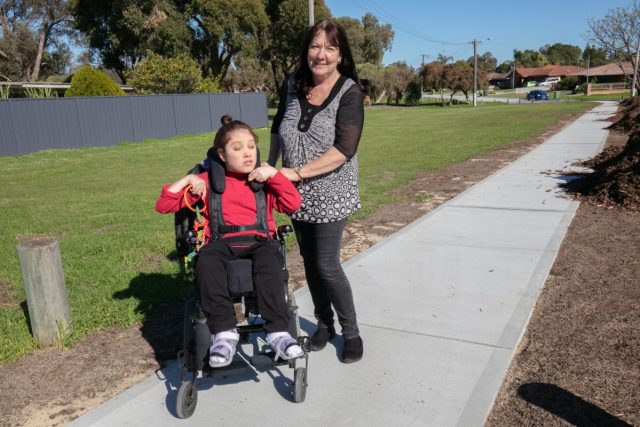 For more than two years, Sharon Whiteside has been supporting 20-year-old Lisa Harris, who has cerebral palsy.
Ms Whiteside requested a footpath to be installed at the end of Namatjira Way to have safer accessibility available.
"I requested the footpath as we have to travel 100 metres through thick grass to access the lane-way to visit our local shopping centre and the bus stop which was extremely difficult to manage," she said.
"To walk the long way around meant pushing Lisa's chair on the road as there was no footpath, which was extremely dangerous."
From Monday to Friday Ms Whiteside supports Ms Harris with personal care and community access.
It took about three months for council to approve and install the new $8000, 100 metre long concrete footpath, which was completed last month.
"The new footpath cuts off around 800 metres of travel, which is wonderful, especially with weather factors affecting Lisa's condition," Ms Whiteside said.
"She can now access local shopping centre and bus stop much easier.
"We cannot thank the City of Gosnells enough for this completion, knowing it is a positive step forward in making the city accessible to all."