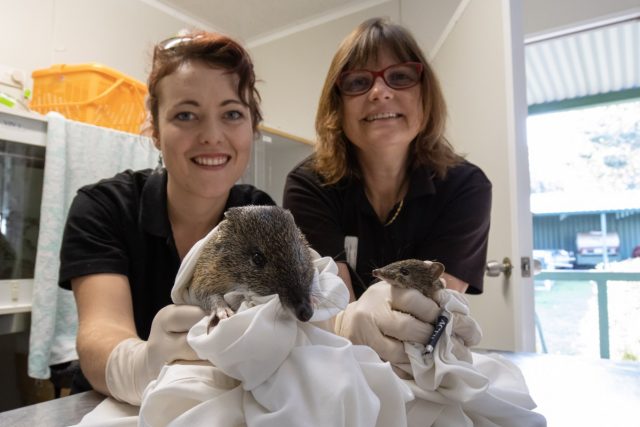 A local wildlife shelter which came up with a successful trap and treat program that has saved a population of quendas in the Perth hills could be rewarded with an RSPCA Animal Award.
With the help of passionate volunteers, Darling Range Wildlife Shelter has managed to assemble a successful non-for-profit wildlife rehabilitation facility.
Despite the health crisis, the dedicated team identified a serious welfare issue in the local wildlife population.
Although not commonly found in quendas, it was identified that some of them had sarcoptic mange, which is a skin disease caused by a very small mite that burrows into the skin and causes extreme inflammation.
Wildlife liaison and support manager Yasmin Hunter said the group is feeling honoured that their work to save quendas is being acknowledged.
"For me, personally, the awareness will be a true acknowledgement of all the fabulous hands-on work we do in the community," she said.
"Wildlife is sometimes overlooked or disregarded in the context of animal welfare, and certainly I don't think most people realise how much time and money volunteers put into saving wildlife during all hours of the day and night.
"We are on the front line when it comes to wildlife welfare and winning the RPSCA WA Animal Welfare Award would be a great acknowledgement of all the work our shelter volunteers do, as well as wildlife rehabilitators do all over the state."
The treatment the shelter came up with consists of fluid therapy to replace the water lost through the wounds twice daily skin treatment, and two separate drugs that kills the mites. Ms Hunter said quendas that get mange seem to be very badly affected.
"It's really horrible to see them with active mange infection, they scratch and bite themselves in a frenzy due to how irritating the infection is," she said.
"These scratch and bite wounds then quickly become infected due to the inflammatory response of the body to the mite infection, as well as secondary bacterial infections.
"Most quendas admitted with mange are with us for five to six weeks before they can be released." Since February 2020, the shelter trapped and treated 112 quendas.
"At a bigger level, we have also shared our updated and treatment procedures with local wildlife centres, local veterinary centres, and we have also reported the outbreak to the DBCA and DPIRD," said Ms Hunter.
If anyone finds a quenda with sarcopic mange call directly on 93940885 or the Wildcare Helpline on 94749055.