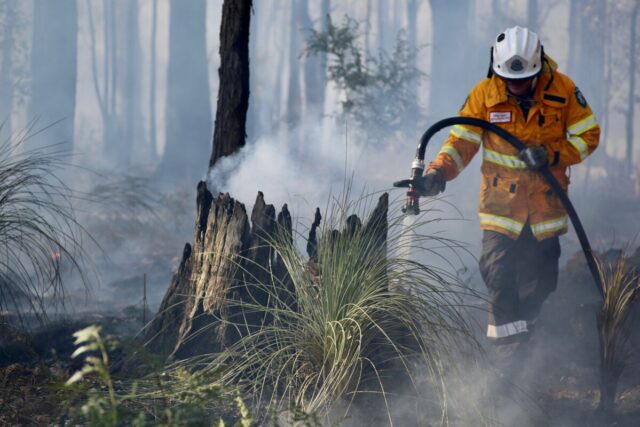 The earlier-than-expected onslaught of bushfires has triggered the Shire of Serpentine Jarrahdale to bring forward its Prohibited Burning Period by three weeks.
From midnight tonight (Thursday November 9) burning of garden waste will be prohibited, and there will be no permits granted for grass, bonfire, bush or paddock burns.
The Serpentine Complex Fires are a series of fires still burning in North Dandalup, Solus, Karnet, Jarrahdale and around the Serpentine Dam.
DFES has attributed these fires to lightning strikes from an electrical storm on Friday night.
The hot, windy conditions on Saturday created the perfect storm for bushfires as they spread in the thickly forested and often untraversable terrain.
The Bureau of Meteorology warned that temperatures could push up to 37 degrees on Saturday, with wind speeds up to 85kph in the hills and along the scarp throughout the morning.
Total fire bans were quickly put in place for the shire on Saturday and Sunday.
By midday a Watch and Act alert was issued to residents in Jarrahdale and Advice alert to parts of Keysbrook.
By the afternoon, DFES had issued four Emergency Warnings across the South of Perth and Peel areas – including to parts of Keysbrook, Jarrahdale and Serpentine – with residents urged to act immediately to survive.
There was an outpouring from members of the community offering their properties in Mundijong, Darling Downs, Oakford and Karrakup to those people needing to relocate horses and other animals.
The Shire of Serpentine Jarrahdale also set up a Large Animal Welfare Centre at the 70 acres Darling Downs Equestrian Park. And the Serpentine Jarrahdale Community Recreation Centre in Byford was opened to accommodate those evacuating.
Parts of the Albany Highway and Kingsbury Drive were closed.
There were fears for the Karnet Prison Farm and the monastery around the Serpentine Dam, and the owners of the Bistro by the Dam closed their business early to get to safer ground.
Around 100 concerned locals gathered at the shire offices for a community information briefing attended by DFES deputy incident controller David Hartley.
Many locals in areas where fires were looming had a sleepless night on Saturday, but thankfully the milder weather conditions helped the hundreds of firefighters working on the blaze to put down containment lines. DFES has confirmed that at the height of the fire, up to 200 career, volunteer, and parks and wildlife firefighters were active in trying to stop the fire from spreading. Over 60 appliances were deployed, and fixed-wing aircraft and water bombers aided those working on the ground.
The threat was downgraded to Watch and Act on Sunday.
"Thanks to our firies, orange is my new favourite colour. We must all stay alert in case the red returns, but this is a wonderful thing to see,"  – shire deputy president Tricia Duggin.
And then by Monday afternoon, the DFES updated the alert to Advice level.
Social media was filled with gratitude for local firefighters and those from as far away as Albany and the Margaret River region who had worked tirelessly throughout the weekend to protect lives, homes, animals and precious native bushland. Some brigades came back to base to discover boxes of produce, homemade food, and supplies lovingly donated by grateful community members.
"All seven brigades from across shire were committed and that's 200 volunteers from our own shire out there looking after life and protecting property," president Rob Coales said.
"On behalf of council, thank you very much."
DFES has confirmed that the fires in the Serpentine Complex have burned through around 3000 hectares of bushland.
Crews are still on the ground using machinery to strengthen containment lines. But it could be a number of days until fires are completely extinguished.
Kingsbury Drive remains closed but should be open imminently.
The weekend's events have hit home how vital it is for locals to ensure they have a bushfire plan ahead of what is predicted to be a difficult Summer.