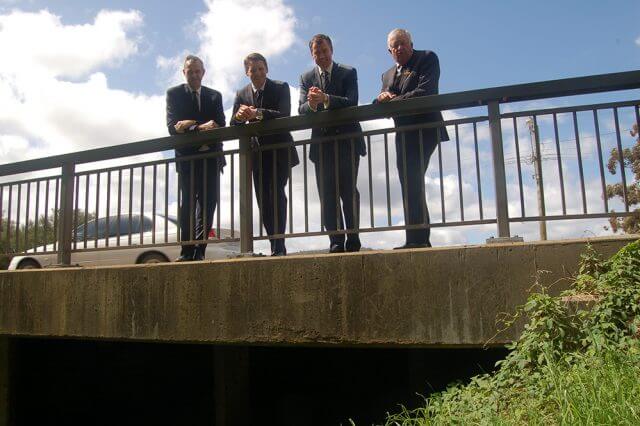 The federal government would spend $1.7 million constructing a two-lane bridge over the Beenyup brook in Byford.
Federal Justice Minister Michael Keenan joined Liberal candidate for Canning Andrew Hastie at the site on South Western Highway last week to announce the upgrade.
The $3.4 million project was jointly funded by the federal government through its bridges renewable program and the state government.
Mr Keenan said the project would see two ageing bridges on the busy highway replaced with a wider structure built to meet the latest safety standards.
"This project will improve the economic and safety performance of this section of highway meaning businesses can get their products to market more quickly and efficiently," he said.
"When completed the new bridge will include two lanes in each direction and sealed shoulders.
"The path along the western side of the highway will also be widened to three metres."
He said the vital upgrade had been designed to remove any load restrictions for heavy vehicles, which would allow over-mass loads to use this section of the highway, meaning fewer trucks on surrounding local roads.
Mr Hastie said the upgrade was vital for encouraging jobs in the area.
"This project here will create 85 jobs, that's 85 jobs for the people of Canning hopefully," he said.
"One of the things I've been talking about and will continue to talk about is the need for infrastructure."
Work on the project would start next month and the demolition of the southbound bridge would be completed by November.
The entire project was expected to be completed by mid-2016.
The funding follows on from a previous $1.7 million federal contribution to replace the decks of two bridges in Byford announced in March.