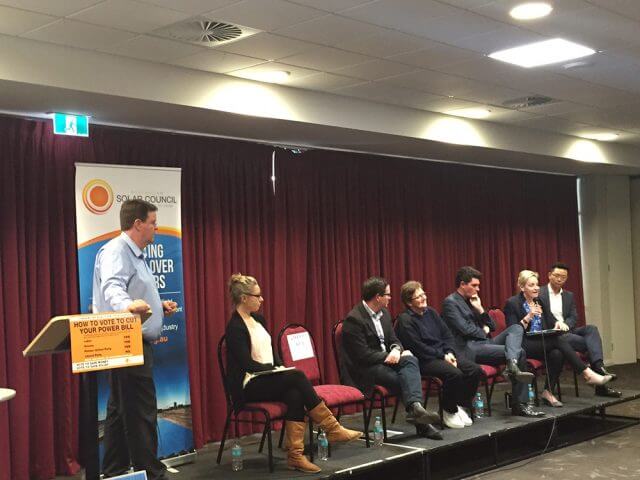 The federal electorate of Canning has the highest uptake of solar energy generation in the country and Australian solar council chief executive John Grimes believed it would influence where residents send their vote this weekend.
Fifty per cent of dwellings in Canning have either solar panels or solar hot water.
The 6112 postcode, which covers the suburbs of Armadale, Seville Grove and Harrisdale, has an uptake of 49.1 per cent while Byford postcode 6122 has an uptake of 75.6 per cent according to clean energy regulator data.
Mr Grimes has been travelling through the electorate throughout the by-election campaign urging people to vote based on renewable energy policies.
He criticised the federal government for reducing the renewable energy target from 41,000 to 33,000 gigawatt hours by 2020.
"We're not the ones you would usually hear from in political discussions like this however the approach of the federal government has been so pointed against renewables and solar in particular we didn't have a choice," he said.
Mr Grimes said solar power could help reduce bills and create a flourishing industry.
"The people of Australia get it, they know that solar is the future, they know there are jobs in it, economic development, big infrastructure projects but most of all its about slashing your power bill," he said.
At a business Armadale forum on Tuesday night both Labor candidate Matt Keogh and Liberal candidate Andrew Hastie said they were for renewable energy.
Mr Keogh said Labor had a plan to move the country's use of renewable energy to 50 per cent of energy needs by 2030.
"Labor wants to support the development of this industry for development of jobs, bringing down cost but also supporting the environment," he said.
"People have been installing solar voltaics and solar hot water systems throughout this electorate for one reason, it saves them money."
Mr Hastie said renewables needed investment, which was happening under the current federal government.
"I'm for renewables, straight up I'm not for stymying wealth creation," he said.
"Renewables need investment and under the direct action plan the current government has invested $3 billion in the emission reduction fund to support the development of renewables such as biomass, geothermal, wind, hydro and solar."