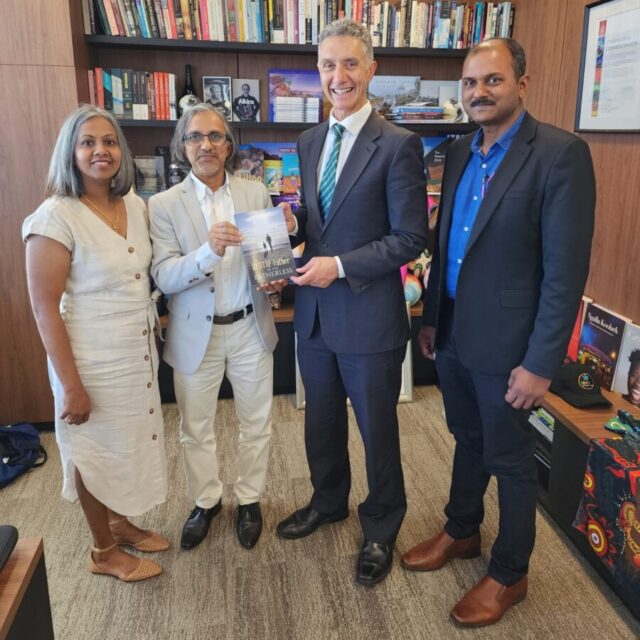 Dale Christian School teacher Manoj Joy is on the precipice of launching his autobiographical debut novel, Rehtaf – Father of the Fatherless.
And he has already received a ringing endorsement from Education Minister and fellow author Dr Tony Buti.
"The book is a narration of his own childhood and makes for very compelling reading, laying out uncomfortable truths that are still prevalent in our community like domestic violence and child abuse. It is a brave and revealing work," Dr Buti said.
"Huge congratulations Manoj on the publishing of your book and thank you for your efforts as an educator in our schools."
The book takes readers on a search for identity from tragic beginnings to self-actualisation.
Leela, a 14-year-old country girl, finds herself given in marriage without her knowledge. She ends up in a house where she faces intense hardship and extreme difficulties, including sharing a bed with someone disguised as her husband. Mai is born.
After the brutal murder of his mother at the hands of a violent husband, Mai embarks on a heartfelt and arduous journey to uncover the truth about his father. Left to navigate a world without the love and support of his mother, he is driven by a burning desire to fill the void in his life and find a sense of belonging.
In the process, he discovers a hidden strength within himself, transforming his pain into motivation and his yearning into purpose.
"Just like for the shepherd boy in 'The Alchemist', the whole world conspired to make the dream of our protagonist happen. The whole book is a living confirmation of the four laws: 1. You exist, therefore you deserve to exist. 2. You are the One and One is the all. 3. What goes around comes around.  4. Everything changes, except the first three," Manoj Joy said.
Rehtaf – Father of the Fatherless will officially be launched at noon on October 14 at the Rossiter Pavilion in Piara Waters.
For more information or to attend call Rasmi on 0470 025 562.