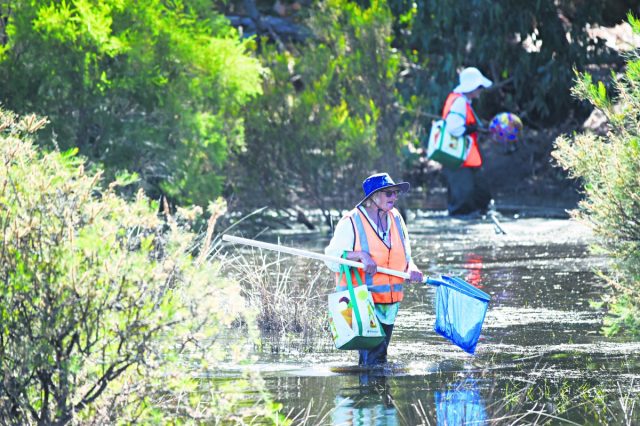 An outbreak of botulism among the bird population of Gosnells Mary Carroll Wetlands as claimed the lives of at least 64 birds to date.
The outbreak, reported to the City of Gosnells two days before Christmas by Friends of Mary Carroll Wetlands coordinator Unice Robinson, has seen at least 76 birds struck down by the contagious illness, with 12 currently undergoing treatment at a local wildlife shelter.
City of Gosnells Acting Chief Executive Martyn Glover said the outbreak was the first of the summer season.
"Outbreaks of botulism are a recurrent issue at many seasonal wetlands across Perth each summer, as lakes dry out in the summer heat and after summer rains," he said.
"This is the first outbreak for the summer season and is most likely due to consecutive days of high temperatures."
Friends of Mary Carroll Wetlands have been at the forefront of the attempt to save as many birds as possible, and Ms Robinson said that while it wasn't the worst outbreak she had seen – that was about 30 years ago – it was bad enough to get their group into action every morning.
"We go out there every morning and collect as many dead and sick birds as possible," she said.
"Two days before Christmas I found a bird that couldn't stand up and straight away I knew it was botulism, I've seen it a few times."
She said that Darling Range Wildlife Shelter had been taking delivery of the sick birds, but said that collecting and disposing of the dead birds was equally important.
"We can't allow them to get maggoty, because if that happens it intensifies the outbreak," she said.
"At the moment it's just waterbirds and it takes a couple of days for them to go down with it, but if the dead birds get maggots and then those maggots are taken by birds of prey, they can die within 24 hours so that is very important."
The City of Gosnells urged residents not to touch any sick or dead birds.
Ms Robinson said she expected to be in the waist-deep water every morning until at least the end of January in an effort to contain the outbreak and save as many birds as possible.
If you'd like to help, contact Unice on 0434 831 230.