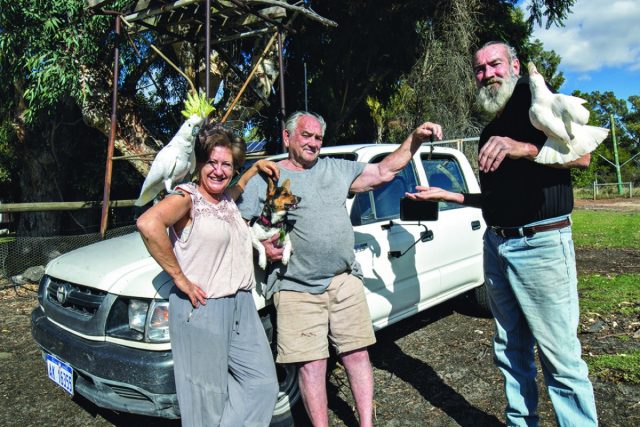 A Byford man who goes simply by the name of 'Fred' has saved the day by buying a man he describes as 'a humanitarian' a new set of wheels to get him back on track.
Joel "Birdman" Cornwall displays birds at the Canning Vale markets every week and collects monetary donations, which he then uses to buy fresh fruit and vegetables.
He transports the produce home to Thornlie, which then gets collected by a number of different charity organisations to help the less fortunate.
Mr Cornwall visited Fred earlier this month and mentioned in passing that his vehicle had broken down one too many times, after it had a cracked head and numerous busted hoses, which he said cost him an arm and a leg.
Fred told The Examiner he visited a friend who looked online to see what he could get for around $4000 in the way of a reliable vehicle for his friend.
"I knew he wanted a four door ute so he could take his birds around and a small tray with enough room to cart around the food," he said.
"My mate found one and I rang Joel and said to him I have a deposit on a ute, the bloke is coming back on Wednesday with the papers and if you are not here, the deal is off."
Mr Cornwall said the gift of the 2003 Toyota Hilux was a blessing and would keep him going for many years to come.
"He did it off his own back, paid straight up cash for it and signed it in my name straight away," he said.
The produce that Mr Cornwall collects helps organisations such as the Salvation Army, Gosnells Baptist Soup Kitchen, Fresh Start Drug Rehabilitation in Northam, PAWS and women's refuges, to name a few.
Pastor David van Leen said he met Mr Cornwall a few years ago while he was serving as Pastor for Thornlie Church of Christ.
He said Fred's donation was significant in allowing Mr Cornwall to continue his humanitarian work.
"Weekly, Joel gives much of his own time and money to ensure that literally hundreds of people in need have fresh fruit and vegetables – often going without himself," he said