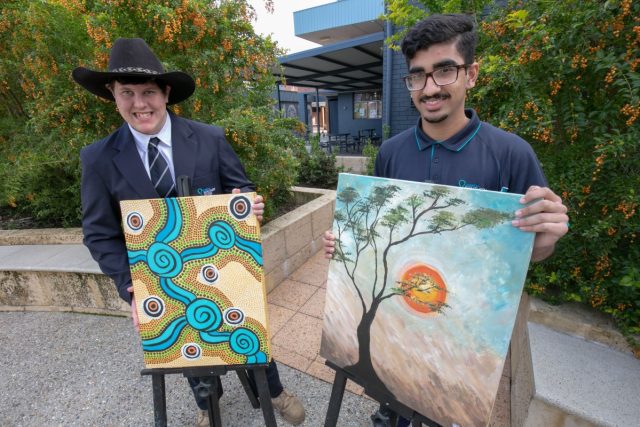 Two local talented students have claimed honours in the City of Gosnells recent Home is Where The Art Is competition.
Southern River College student Umair Ahmad won the overall prize and Kobi Philbin won the high school category in the city's art competition.
Year 10 student Umair said he was really surprised and lost for words when he found out he had won.
"I will spend the money on art supplies so I can continue painting at home," he said.
"My artwork was about Sutherlands Park with its beautiful scenery."
Although Umair said art isn't something he would pursue as a career, he said he does it for fun and that he was already working on another masterpiece.
And for year 10 student Kobi, art is a hobby that he finds peaceful.
"My painting reflects my indigenous heritage, with the colours depicting the changing land uses in this area, and the six circles representing different local communities," he said.
Both students said they would like to thank the school's art teacher, Mr Bikim, for being an inspiring and brilliant teacher.
Mayor David Goode, who visited the college earlier last week, said it was great to see so many young people getting involved and sharing their creativity with their community.
"They are both very talented students and I hope they will continue to follow their artistic passions," he said.
"All of our entrants embraced the theme of showcasing their city with this competition and we've been pleasantly surprised with the variety of entries."
You can find more local Gosnells stories at here